September CLI Players of the Month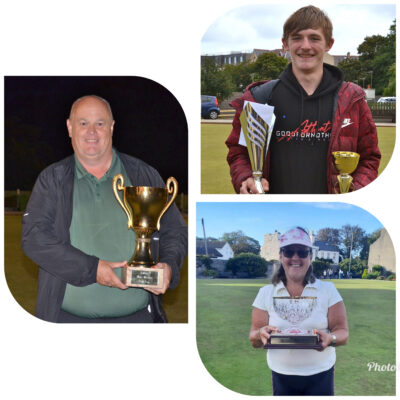 Congratulations to September Canada Life International Award winners:-
Men's Player of the Month: Peter Jones – Marown
Ladies Player of the Month: Joyce Ogden – Marown
Under 21's Player of the Month: Toby Hart – South Ramsey
Peter was the obvious choice in the men's game during September, having joined half way into the season 'Jonah' has settled in nicely winning his first Manx Masters at the first time of asking beating the best of the best on his way to picking up the title. In addition to this Jones contributed towards Marown's success winning a fourth successive Club Team Championship title, whilst clearly strengthening their A Team in the second half of the season in their attempt to wrestle the title back from South Ramsey A. In addition to this Jonah won a Doubles competition with clubmate Glenn Boland at Finch Hill, whilst enjoying further success in the Men's Doubles in the September Festival with teammate Colin Kelly.
The pick from the Ladies Section this month was a difficult choice with two names in the frame, it was Marown's Joyce Ogden who edged the vote from the Ladies. Joyce started the month in devastating fashion, with a 21-4 win in the final of the JMS Veterans Shield helping her team on the way to victory as Marown retained the title, with another three single figure wins following. The pre-festival competition held at Castletown turned out to be something of a surprise victory on the day as a space opened up in the draw, with Joyce entering and not having any bowls with her used a set of club bowls. Joyce went on to claim her first win in a Ladies singles open beating some top lady bowlers on the day. This teed Joyce up nicely for the week, with the September Festival taking place Ogden reached the quarter finals in the Tourism, then just lost out 19-21 in the main event at the same stage to the runner up.
Toby was the easy choice in the Under 21 category winning his first Junior Manx Masters, with this being his last opportunity to do so, performing well to beat one of the outstanding Junior bowlers Madison McMullan in the final. Toby also performed well four his club team South Ramsey winning four games, while this is not in September – there will be no player of the month for October it is worth noting that I cannot recall two brothers winning an Open Competition as Toby and older sibling Austin performed brilliantly in the Juan Kelly Cup recently as the pair went on to take their first win in a Doubles competition.