News:
Ladies Over 60's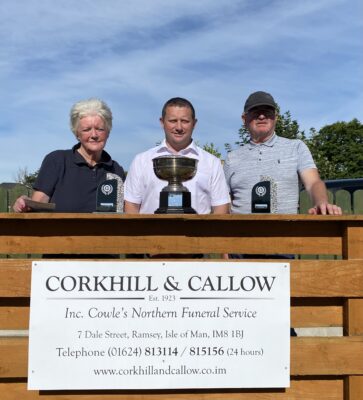 South Ramsey Bowling Club hosted the Over 60's any combination doubles competition sponsored by Corkhill and Callow Funeral Directors with a healthy entry of 24 pairs taking part on a superb surface on a glorious day. The competition was being played for the second time in its current format and was previously known as the Pro Tours Gold Cup.
At the quarter final stage Marown duo Lynda Cadamy and Joyce Ogden inflicted a heavy 21-6 defeat on home greeners Anthony Kelly and Richie Davies, while Chris Price (Port St Mary) and Les Brookes (Finch Hill) also won comfortably 21-10 against Ballaugh pair Pat Mason and Fred Waggett. In the other half of the draw Janet Monk and Steve Parker didn't have far to travel from Mooragh Park as they overcame Paula Firth (Onchan) and Kevin Firth (Douglas) 21-17, whilst siblings Elaine Moore (South Ramsey) and Andy Kennish (Peel) seen off Derek Allen (Onchan) and Bernard Thackrah (Port St Mary) with a 21-13 win.
In the first semi-final Cadamy and Ogden got the better of Price and Brookes with a hard fought 21-18 win, while Moore and Kennish claimed their place in the final with a 21-14 victory over Monk and Parker.
The final was extremely well contested with Moore and Kennish being kept to singles early on, with Cadamy and Ogden scoring three doubles they built up a four-point lead at 14-10. The fightback from Elaine and Andy got underway when they levelled matters up at 15-15 with 17 ends played, having still not scored more than a single throughout the game. End 18 in the match was a key point in the match as they scored a three to lead 18-15 and then exchanged singles with their opponents over the next four ends to lead 20-17. Cadamy and Ogden weren't done there as they capitalised on a poor end to score three to level things up at 20-20. With the mark being set along the edge of the green Kennish played a good second bowl which was good enough to secure a 21-20 win.
At the conclusion of the competition the presentation was made by South Ramsey Committee Member Geoff Collier, who thanked Corkhill and Callow Funeral Directors for once again sponsoring the competition, the club members who helped with the running of the competition and the Ladies for the refreshments provided throughout the day. Tim Pressley from Corkhill and Callow was then introduced to present the prizes.