Monthly Archives:
June 2023
One of the biggest events on the bowls calendar – The Isle of Man June Bowls Festival took place this week, with the event attracting over 500 entries, as entries continue to improve. The weather from Monday to Thursday was glorious, with many seeking the shade with the heat getting the better of many of the visiting bowlers. Friday saw the fine weather break with the rain arriving, this did not deter the spectators, who were treated to an entertaining day of good bowls to cap off a fine week.
In the Men's event it was Phil Lee (Quarry) who picked up his first Isle of Man Festival win, with Lee wondering if he was ever going to get onto the Island on Monday due to travel difficulties on the day, just four days later he finally got his hands on the famous trophy and took home the winners cheque for £3,200 as he beat Thongsbridge man Paul Bailey who last won the June title in 2005 with victory over Blackpool man Tommy King. Bailey also won the September Festival in 2007.
Lee made a confident start in the final winning six of the first eight ends as he played a round peg mark off the edge of the crown to build up a 13-8 lead over Bailey, with the latter having to play several reaching bowls due to the pressure that his opponent was putting him under.
On the ninth end with Lee counting for two, a great last bowl from Bailey just tickled the jack to pick up a single. From there Bailey got a bit of momentum as he turned the match on its head winning five consecutive ends scoring three doubles as he headed for a mark that had served him well earlier in the day, with Lee struggling to get hold of the jack, Bailey took the lead 16-13.
Lee kept his composure brilliantly as he took the first opportunity granted to him by his opponent on the 14th end to pick up a two, before conceding a single on the following end, with Bailey letting him off the hook in the corner as his second bowl went too far past the jack.
Lee responded once more with a brilliant single along the edge, beating a great lead bowl from his opponent. Another two good bowls in the corners made a target which Bailey couldn't refuse to strike at as he hit the bowls cleanly, only for one of Lee's bowls to hit the other as it stayed in to count one to level the match up at 17-17.
Bailey then played two good bowls in the corners to re-take the lead 19-17 and with jack in hand he headed back into the corners, however the Merseyside man levelled things up once more to tie 19-19 after 19 ends.
A good lead on the following end was enough to score a single, with Bailey saving game with his second bowl. Heading from the gate to the steps to the clubhouse on a round peg Lee put his lead just under a yard away, with Bailey playing his first bowl too far through and narrow. Lee then improved on his first bowl as he promoted his own bowl to just over a foot to the side of the jack. Bailey sent his last bowl and looked to be on a good road and a decent length, only to agonisingly slide through the gap between the jack and bowl for Lee to secure a hard fought 21-19 win in an entertaining final, with Lee celebrating his first June Festival title with his arms raised towards his supporters, whilst Bailey could console himself with a cheque for £1,250 for his efforts during the week.
Lee or 'Sooty' as he is known across the bowls world reached the final courtesy of a determined 21-17 win over Michael Tunstall (Tixall BC), with the players sharing a warm embrace at the end of the game. Bailey also ended up with a game on his hands in the semi-final with Gareth Hughes (Castlefields) as he also won 21-17, with the latter battling back from a 10-17 deficit and 13-20 to just lose out.
The quarter finals were all fairly straightforward except for Lee's first game of the day as he faced Josh Mordue (Pudsey), with the former having to battle for his 21-18 win. Tunstall ended the hopes of Steve McManus (Hesketh Arms) who had taken a number of scalps on his way to reaching his first Isle of Man finals day with a 21-10 win. In the other half of the draw Bailey ended the hopes of a first June Festival & Tourism double winner since South Ramsey's Peter Collister became the only man to achieve the feat in 1983 as he disposed of Callum Wraight (Castlefields) with a comfortable 21-12 win, whilst Hughes put out another man who had performed well all week in Keith Middleton (Fairfield) who lost out 21-12.

Men's Tourism
The Men's Tourism was played down to the winner on Thursday morning on Noble's 1, and it was Callum Wraight (Castlefields) who picked up another Tourism title to see off Joseph Cranston (Crossgates) to with a 21-17 win. Wraight never trailed in the game, however Cranston did level the game up at 13-13 after 13 ends, however the Shropshire man then won seven of the last 10 ends on his way to victory.
In the semi-finals Wraight's path to the final was never in doubt as he stormed home with a 21-8 win over Chris Ellis (Spen Victoria), whilst Cranston had to dig deep for his 21-20 win over Jon Palmer (Castlefields).
In the quarter finals Wraight progressed with a 21-12 win over Dave McDermott (Tixall BC), while Ellis got the better of Michale Coupe (Castlefields). In the other half of the draw Cranston beat Paul Bailey (Thongsbridge) 21-14, whilst Palmer just got through with a 21-19 win over Daniel Jones (Castlefields) to reach the semi-final stage.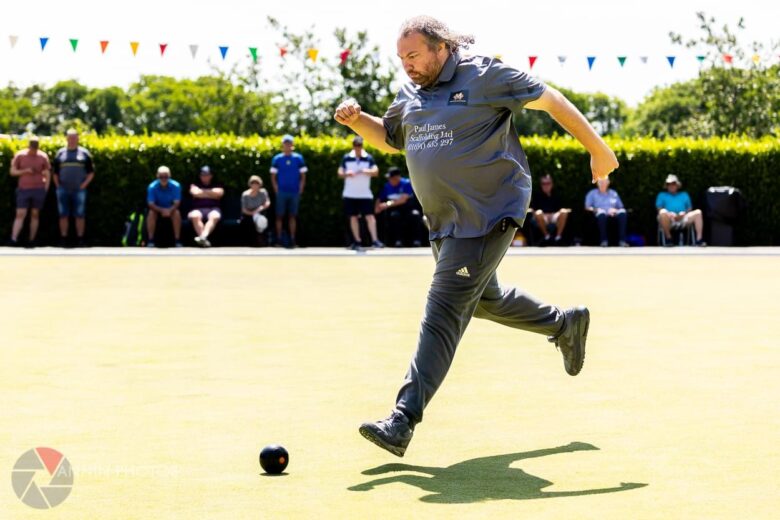 Other Events
The Men's consolation was won by Daniel Barwise (Tixall BC) who beat David Jackson (Knutsford) 21-13 in the final, with Barwise winning 21-17 against Myles Summers (Clayton Victoria) in the semi-final, whilst Jackson had a comfortable 21-9 win against Tom Maryland (Thongsbridge).
The Ladies consolation was contested between two locals with Paula Garrett (Douglas) overcoming Philippa Taylor (Marown) 21-16. Garrett reached the final courtesy of a 21-15 win over Diane Harrison (Lune Road), whilst Taylor edged through with a 21-20 win over Claire Frangleton (Burtonwood).
The Visit.Com Flyer title went to Gerald Merry (Delamere) who had a close 9-7 win over Paul Morris (Chapel Park). whilst the Last Chance Mixed Final was won by Gareth Coates (Ackroyden Victoria) who beat Barry Simm (Lune Road) 21-15 in the final.
In the doubles competitions the Open doubles was won by Mark Hughes and Kez Smith (Both Crossgates) with an 11-10 win over Dean Butler (Two Gates) and Michael Coupe (Castlefields), as they fought back from a 5-10 deficit to run out with the win. Hughes and Smith reached the final with a 11-8 win over Rob Monk (North Ramsey) and Matthew Quirk (Onchan), whilst Butler and Coupe fought back from a 5-10 deficit against Bob Clark (South Ramsey) and Chris Bly (Hoghton) to win 11-10.
The Men's doubles were also well contested as Paul Roberts and James Fitzpatrick (both Wirral) performed well to see off favourites Richard Goddard and Billy Speed (both Castlefields) 11-10 in the final. Fitzpatrick and Roberts also crept into the final with a 11-10 win over Rob Monk (North Ramsey) and Matthew Quirk (Onchan), whilst Goddard and Speed were too good for Jordan Cain (South Ramsey) and Graham Hickey (Lower Hopton) as they won 11-4.
The Ladies doubles were won by Lindal BC pair Caroline Bushell and Jessica Pickthall who had an emphatic 11-0 win over Wrockwardine Wood pair Sian Skelton and Holly Bishton in the final. Bushell and Pickthall reached the final with an 11-8 victory over locals Caroline Whitehead (Port Erin) and Louise Tebay (Ballaugh), whilst Skelton and Bishton won 11-6 against Diane Harrison and Gill Simm (both Lune Road). 
Winning the Mixed pairs were Rita Manning (Brownmoor Park) and Gavin Ratcliffe (Meersbrook) thanks to a 9-6 win over Elaine Hawkins (Port St Mary) and Gareth Coates (Ackroyden Victoria) in the final. Manning and Ratcliffe reached the final with a 9-4 win over Kathryn Gee (Unison) and Michael Coupe (Castlefields), whilst Hawkins and Coates won 9-0 against Caroline Whitehead (Port Erin) and Ken Lethbridge (Victoria Park).