MADISON RETAINS RHEUBEN THOMAS JUNIOR TROPHY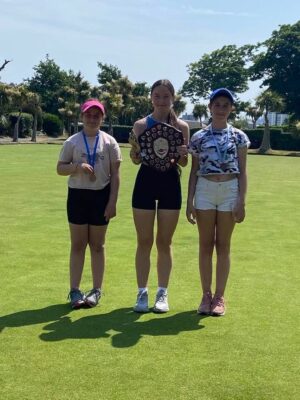 The third running of the Rheuben Thomas Junior Bowling Trophy was held on the morning of Sunday 11th June on the glorious setting of the North Ramsey Bowling Club green in Mooragh Park. An entry of 22 competitors was split into two groups, the younger/less experienced bowlers playing in a Round Robin event with the older/more experienced bowlers playing in a knockout competition for the Rheuben Thomas Junior Bowling Trophy.
In the Round Robin event the competitors were split into two groups with the winner of each group meeting to decide the outright winner of the event. Enya Christian was a clear winner of one group with newcomer Landon Allison winning his group by just one chalk. In the final Enya got off to a flying start leading 4– 0 after the first four ends and despite a determined comeback by Landon in the last few ends Enya ran out as the winner 7–3.
In the knockout event Madison cruised through the quarter-finals to set up a semi-final meeting with Clark Kelly. Madison led 12-4 after 12 ends and looked to be well on her way to reaching the final however Clark fought back gamely and was leading 19-18 after the 27th end. It was Madison, however, who won the contest scoring a 2 and a 1 on the last two ends, winning 21-19. The other half of the draw saw Victoria Johnson playing Lola Tebay in the semi-finals. This was again a very close game with the lead changing multiple times and after 28 ends Lola led by 19-18. Mirroring the scoring of the other semi-final it was Victoria who ran out as the winner scoring a 2 and a 1 on the last two ends.
In the final Madison dominated the game and was never behind winning the match in the 18th end 21-7, thereby retaining the trophy she had won the previous year.
The prizes were presented by Heidi Thomas (Rheuben's widow) assisted by NRBC Junior Coach Janet Monk. In addition to the main trophy presented to Madison she and Enya Christian received small trophies to keep whilst runners up Victoria and Landon received silver medals. All competitors received a bronze medal commemorating the event.
NRBC would like to thank Heidi and all her family for their efforts to support the event and everyone else who contributed to the running of the competition.