Monthly Archives:
July 2018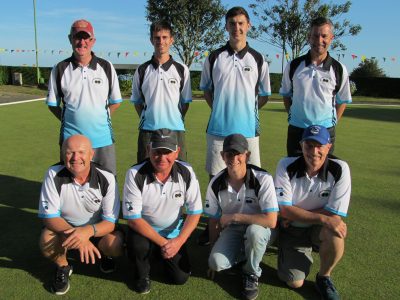 In Ellan Vannin Fuels sponsored division one Marown A suffered their third defeat of the season losing 6-4 away to Onchan A. In the first half of the match the two captains played each other with Peter Slinger beating Paul Dunn 21-18. Kevin Quirk performed brilliantly to beat Matthew Keggen 21-3, with Colin Kelly recording the biggest win for the visitors winning 21-9 against Adrian Skinner, whilst Dean Kipling was not far behind seeing off Phil Kerruish 21-12.
In the second half of the match Jordan Cain beat Peter Kelly 21-10, with Matthew Quirk also winning 21-18 against Paul Kelly. For Marown Phil Kelly won fairly comfortably 21-15 against Rob Monk, with Neil Withers holding off the challenge of Mark Kelly to win 21-17.
Onchan took the two points for the aggregate thanks in part to Kevin Quirk's huge win, whilst Mark Kelly getting to 17 against Neil Withers should also be noted.
Crucially all of Marown's defeats this season have been away to the top four, with the Champions South Ramsey still having to play three games away from home to the top four in the final six fixtures of the season the league is far from over. Marown host South Ramsey in their next league fixture.
South Ramsey A took full advantage of Marown's slip up by winning 10-0 at home to Port Erin A extending their lead to 16 points. The win wasn't quite as straightforward as the score suggests with Bernie Durcan pushing John Kennish all the way before losing out 20-21 and David Cain fighting back from 9-16 down again Chas Grills to 17-18 with Cain lying one on with Grills playing a good last bowl to get back in and see the game out. Winning big for the home team were Peter Collister, Alan Moore and Stefan Kelly.
Peel A came away from Mooragh Park with a good 7-3 win over North Ramsey A. Winning for the home team Allan Callow had a comfortable 21-10 win against David Proctor, whilst Gary Merrill beat Dave 'Barney' Kelly 21-19, with Steve Walmsley also winning to the same score against Frank Watson. For the visitors Tommy McMeiken and Jerome Surridge both won to single figures, whilst the three other winners for Peel Gary Smith, Tom Kelly and Stevie Kelly were all comfortable.
Marown B continue to pick up points to help their cause, but will have been disappointed not to take two points for the aggregate losing out by a solitary chalk (145-146) following a 3-7 home loss to Douglas A. Captain Harry Barton led the way for Marown with a 21-10 win over Gary Conwell, with Arnie Withers beating Willie Cowley 21-14 and James Kelly recording a 21-17 win over the experienced Ian Moore. For the visitors Mervin Sayle and Andy Kennish both won 21-15 against Alan Kennaugh and Juan Killip respectively, whilst winning three close games were Stuart Garrett, Jimmy Sansom and Shaun Seal.
South Ramsey B look to pull themselves away from the danger zone with a 4-6 away loss to Castletown A. For the visitors 15 year old Austin Hart recorded his first ever division one win beating Dean Kinley 21-12. Hopefully Hart can now use this win to kick on, as he has been knocking on the door all season scoring 17 or more in eight league games to show he can compete. Austin also found himself a bit richer with a couple of his club mates stumping up the cash as reward for his first win! The other winners for South Ramsey were Steven Waters who beat Ian Watson 21-10, Tony Dugdale who beat Jordan Drewett 21-13 and James Teare who held on to win 21-20 against David Quayle. For the home team Mike Hargraves just got over the line 21-20 against Christian Caley, Jeff Kinley beat Steve Moore 21-5. Peter Oates won 21-10 against Martin Caley with George Peach seeing off Ben Dugdale 21-16.
Douglas B hosted Port St Mary A taking three games off the visitors, losing out 3-7. For Douglas Andy Cannell won 21-11 against Steve Franks, Bob Callow beat Thomas Keggen 21-12 and Gordon Wynne-Smythe doing enough to beat Rob Cooil 21-18. For Port St Mary Trevor Quayle won to single figures, with Steve Hall, Paul Skelly and Dan McCabe also winning, whilst Wayne Roberts was pushed by Mark Corrin before getting over the line to win 21-17.
In division two league leaders Noble's A had a tough looking away trip to face Ballaugh A, with the home team losing the advantage of a tricky home green following three consecutive days of rain. Winning for the visitors were Tommy Collister, Kevin Firth, Glenn Boland, David Pease with Reginald Temporaza defeating Peter Graham 21-4. For the home team Richard Fisher, John Maddrell and John Keenan were the winners.
Second placed Castletown B pulled two points back on the league leaders following their 9-1 away win against Noble's B. The lone winner for the home team was John Singleton who beat Mark Saunders 21-14. For the visitors Ross Moore, Derek Lewney and Aaron Richardson all won to single figures against Juan Qualtrough, Stewart Cubbon and Peter Woods respectively.
Onchan B travelled south to take on bottom of the table Port Erin B coming away with a 7-3 win. For Onchan Mike Thomas recorded the biggest win of the night winning 21-8 against Ben Mowle, whilst Edward Carlyle and David Inch both won 21-18. The home team winners were Harry Minor, Christopher Dent and Ken Horsley who beat Paul Bailey 21-20.
Peel B sent Port St Mary B home with the tail between their legs with a 9-1 defeat. The sole winner for the visitors was Bernard Thackrah who was the only Port St Mary player to make it into double figures beating Dougie Allan 21-16. Alec Taylor & David Smith both won 21-2, Ray Shooter and Michael Kavanagh won 21-5, whilst Gordon Corrin and Harry Kelly both won 21-8.
Port St Mary B slipped up at home to Peel C winning just 6-4. Brian Corrin and Tom Collins both lost 20-21 to Peter Kelly and Jimmy Corlett, with the other two Peel winners being Bob Berry and Jeff Wilson. Winning for the home team were Peter Collins, Ray Maddrell, Tim Williams and Derek Kneen.
Finch Hill A made the journey north to take on North Ramsey B and came away with a 6-4 win taking the aggregate by just eight chalks with three of the Finch Hill losers scoring 17 or above to help take the win. Winning for the visitors were Tony Epifani, Arthur Halsall, Paul Dougherty and Billy Long. For North Ramsey Brian Colquitt, Alex Yates, John Breen and Paul Cannon won.
With Ballaugh B taking their turn to sit out in division three it gave the teams below them the opportunity to close the gap with Marown C doing just that with a 9-1 home win over Douglas D. Five of the home team won to single figures. Picking up the only win for the visitors was David Boylan who beat Steve Wilson 21-16. Marown have now jumped ahead of Castletown C to sit just one point behind Ballaugh B.
Castletown C slipped up away to Peel D losing 3-7. Brian Lindsey recorded the biggest win for the home team whilst Bert Quayle inflicted a second consecutive defeat on Juan Drinkwater with Quayle winning 21-14. Winning for the visitors were Sam Clague who beat Leslie Halsall 21-18 in a close game, John Kinley picking up where he left off last week beating Adam Kelly 21-12 and Philip Smith who won 21-13 against Owen Crompton 21-13.
Douglas C hosted near neighbours Finch Hill B with the match ending in a true draw 4-4 and the chalks tied at 123 each. Winning for the home team were Andy Foster, Mike Cain, Keith Fearnley and Thomas Rougvie who beat Stephen Oates 21-2. For Finch Hill Eric Stanley had his work cut out to beat Davy Stewart 21-19, whilst Kevin Anderson was the biggest win 21-7 against John Ferguson, Sam Stannard maintained his chase for the third division merit beating Les Quayle 21-13 with Paddy Murphy being awarded a walkover.
South Ramsey D won 8-2 at home to Ballaugh C, however third division merit leader Ian Moore lost his 100% record just losing out 20-21 to Trevor Jones. The other winner for Ballaugh was Patrick Grant who beat Ryan Surridge 21-11. Ryan Hargraves returned to winning ways with a 21-17 win over Phil Faragher, with Jay Moore winning to the same score against Alan Kelly. Peter Morgan beat Bert Quayle 21-19 and Franz ten Donkelaar held on to beat Peter Corlett 21-20.
Onchan C lost 4-6 at home to South Ramsey C with Mike Kelly winning 21-8 against Robert Snape. For South Ramsey Tony Hart beat Paul Clinton 21-7 with the northern men winning the aggregate by just 5 chalks.