News:
Men's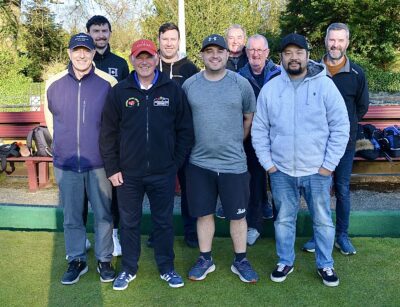 Another round of fixtures took place across all three divisions this week in the Canada Life International sponsored bowling leagues.
In Division One it was very much a case of as you were at the end of the week, however the lead did change hands briefly as Marown A picked up their first 10-0 win of the season as they beat Douglas A at Crosby to hit top spot. Three single figure wins were claimed by Paul Dunn who beat Merv Sayle 21-6, John Gelling won 21-7 against Mark Kneen, whilst Glenn Boland beat Keith Rise 21-8. The highest scorer for the visitors was Gordon Wynne-Smythe who lost 16-21 to Peter Jones.
South Ramsey A had their toughest test of the season as they faced Onchan A at the Park. After a tough game the reigning league champions came away with a 4-6 win, with the visitors claiming the aggregate by just five chalks (140-145). First league defeats of the season were inflicted on the four losers for South Ramsey as Alan Moore lost 12-21 to Phil Kerruish, Bob Clark was beaten 16-21 by Matthew Quirk, David Bradford lost to the same score to Kevin Quirk, whilst Jordan Cain was defeated 17-21 by Peter Slinger. Winning for the visitors were South Ramsey captain Glynn Hargraves who won convincingly 21-10 against Reg Temporaza, James Teare beat Jamie Clague 21-12, Peter Collister recovered from a 7-14 deficit to run out with a 21-14 win over Neil Dunwell, whilst Stefan Kelly held his nerve to win 21-20 against Will Penhallurick to reverse last season's score line.
Elsewhere on Monday evening North Ramsey A claimed their biggest victory of the season beat Port St Mary A 9-1 at Mooragh Park, Peel A got the better of Marown B 8-2 in the Sunset City, whilst South Ramsey B claimed a vital 7-3 home win against fellow strugglers Castletown A.
On Friday evening the clash of the season took place with South Ramsey A hosting Marown A on a tricky green. The home team made home advantage count early as South Ramsey captain Glynn Hargraves claimed a resounding 21-4 win over Glenn Boland, whilst Bob Clark showed no mercy to Paul Kelly as he matched his captains score to put the home team 2-0 up and leading by 34 chalks. David Bradford was next off with a 21-20 victory over Phil Kelly, with the former recovering from an 8-14 deficit to sneak home. With Peter Jones missing due to injury standing in for Marown was Tom Kelly who recovered from 10-15 and 14-18 behind to win 21-19 against Peter Collister.
In the second half of the match Marown captain Paul Dunn performed well against James Teare as he won 21-10. Tony Dugdale who was filling in for Jordan Cain performed brilliantly to beat Neil Withers 21-13, Colin Kelly was always in control with his 21-9 victory over Alan Moore, whilst Stefan Kelly had to dig deep for the second time this week as he got home 21-18 against John Gelling to secure a 7-3 home win and with it restore the three-point lead at the top of the table for South Ramsey.
Castletown A stayed firmly rooted to the bottom of the table following a 2-8 home defeat to Onchan A, with Jordan Drewett and David Quayle the two winners for the Town men.
Elsewhere on Friday evening Douglas A won 8-2 at home to Marown C, with Ian Moore returning following a shoulder injury to beat Andy Kennish 21-20 who was making his first night league appearance of the season, North Ramsey A continue to climb the table thanks to a 2-8 victory over Peel B, Peel A came away from Breagle Glen with a 4-6 victory over Port St Mary A by just three chalks (139-142), whilst Marown B won 7-3 at home to South Ramsey B.
In Division Two Ballaugh A hit top spot again thanks to a strong week with an 8-2 win over Noble's A, then bettered that result with a 9-1 home win over Onchan C as the visitors scored just 68 chalks, explained by the Onchan men being three players short on the night. Ballaugh man Steven Grant leads the way in the individual merit with eight wins from eight games played.
Castletown B will be pleased with their weeks work as they beat South Ramsey C 8-2 at home on Monday evening keeping the visitors to 99 chalks as they claimed four single figure victories. The Town men won to the same score on Friday night as they beat Onchan B 2-8 away from home, with all players from both teams getting into double figures to sit on 56 points after eight games played.
Finch Hill A occupy third place despite losing 7-3 away to Douglas B at the start of the week, they bounced back to trounce Noble's A 10-0.
Douglas B are by no means out of the race to get promoted as they followed up their victory at the start of the week with a 1-9 away victory over Noble's B, with Juan Drinkwater the lone winner 21-16 against Andy Foster.
Ballaugh B lead the way by eight points in Division Three despite suffering a 4-6 home defeat to Douglas D, with two 7-21 defeats for the home team sealing their fate as they lost by nine chalks (127-136). The Ballaugh men bounced back on Thursday night with a 2-8 'away' victory over their C Team.
Port St Mary B are making a decent attempt at going straight back up, as they won 8-2 at home to Peel D, then went one better in their next fixture as they won 1-9 at Crosby against Marown D with Junior Keggen winning 21-19 against Chris Williamson.
South Ramsey D are having one of their most impressive seasons to date, as they claimed back-to-back 8-2 victories, starting the week beating Noble's D at home, then finishing the week with victory away to Peel D.
Noble's D and Noble's C clashed for the first time on Thursday evening, it was the D Team who took the spoils with a 7-3 win. For the D Terry Bates beat Steve Cain 21-14, Sam Colquitt held on to beat Lee Price 21-20, whilst Roy Moore beat Kevin Airey 21-1. Responding for the C Team were Andy Greggor who beat Andrew Bell 21-20, Lee Greggor beat Alex Colquitt 21-11, whilst Mike Caley won 21-14 against Kevin Moore.