Monthly Archives:
April 2019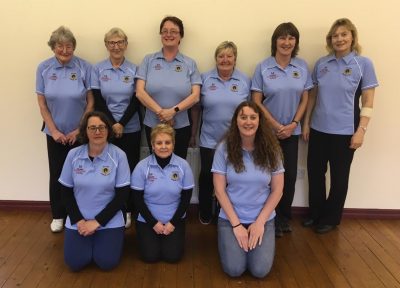 Title contenders Castletown A suffered a shock defeat away to Ballaugh losing a close game by three chalks. Ballaugh have strengthened this season with the return of some experienced bowlers and won six games including Cath Harvey's 21-8 win over Barbara Young, Elaine Fenton beating Amanda Lawler 21-17 and Barbara Graham winning a tight game 21-18 against Kath Kinley. Gill Dixon, Pat Mason and Brenda Bowyer also won for the home side. A big 21-3 win from Kim Foy and good wins from Ann Oates and Hannah Drewett helped to close the gap on chalks but the home side took the win from the early league leaders 156-153 (6-3).

Marown took on Peel Sunset and it was Marown who comfortably picked up their first win at home to Peel since 2011. The winners for Peel were Lynda Wilson, Joyce Kelly and Pat Robertson. Joyce Ogden and Rosie Winkle picked up single figure wins for Marown followed by good wins from Pat Withers, Shirley Whelan, Mary Alderson and Philippa Taylor. The result was 169-126 (6-3).

Champions Port St Mary welcomed Mooragh Park to their well running green and It was Port St Mary who picked up a high score from the up and coming team. The one win for Mooragh came from Janet Monk who beat Mavis Franks 21-12. Shannon McMullan played well but it was the experienced and previous Merit winner Ann Maddrell who crossed the line winning 21-19. Wendy Kennaugh and Caroline Parker battled hard and their game finished 21-18 to Wendy. Single figure wins from Jayne Kneen, Trish Bull, Chris Price and Lorna Brady-Glover restricted Mooragh's final score with the match ending 180-102 (8-1).

South Ramsey continued their successful start to the season, remaining the only team undefeated, beating newcomers Castletown B. Mother and daughter Elaine and Jenny Moore remain two of the seven women with 100% records after the first four opening games. Sonya Mercer and Joy Stephens came the closest to a win for Castletown B but the Ramsey side proved to strong on the night. The match finished 79-189 (0-9).

Port St Mary B travelled the short distance to Port Erin. Port Erin's Voirrey Curphey remains undefeated after beating Chris Holland in a close battle 21-19. There were some tight games on the night with home player Jean Thackrah beating Brenda Hawkard 21-19 and Port St Marys Wyn Collister defeating Linda Dawson 21-19. Caroline Whitehead, Lynda Cadamy and Carol Kaye won to single figures to extended Port Erin's winning margin with the result ending 179-128 (7-2).

Nobles took on Douglas with the home side winning 8-1 on games. Wendy Cowin won for the away side beating Sonja Lees 21-11. The game of the night went to Clare Cooper and Paula Garrett who were locked in a nip and tuck battle until the last two ends with Clare taking the win 21-18. The match finished 179-83 (8-1).

This week sees the preliminary rounds of the Jean Kelly which includes club derbies between Port St Mary A vs B and Castletown A vs B. Unfortunately, Douglas have had to withdraw from the Jean Kelly giving South Ramsey a bye to the Quarter Finals.

Round five of fixtures for the night league continues on Friday and this week also sees the start of the Club Team Championship and Mixed Team Championship competitions.