Austin's Hart Breakers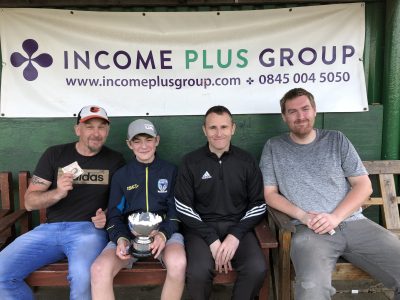 South Ramsey Bowling Club hosted the IPS Administration Jim Senior 4's on another fine day with a fair entry of 14 teams (56) on Easter Sunday.
The competition was played as two doubles, with the team with the most chalks progressing to the next round.
In the early rounds the home pairing of Judy Kelly & Ryan Hargraves gave Caroline Parker & Janet Monk (Mooragh Park) a scare performing brilliantly to go 20-13 ahead, before cruelly losing out 20-21. In the second game Steve Kelly & Gillian Jopson lost out 11-21 to Shannon McMullan & Helen Martin allowing the Mooragh Park Ladies to progress into the next round.
The shock of the early rounds was undoubtedly the south team who put out last year's winners to turn the tie around with Margaret Tasker & Caroline Whitehead losing out 16-21 to Alan Kelly & Stefan Kelly, only for their team mates Derek Allen & Bernard Thackrah to record a stunning 21-10 win over Jordan Cain & Dido Kelly.
Also worthy of a mention was the comeback of the mix and match team. Edward Carlyle & Dave McCabe were well beaten 11-21 by Paul Routledge & James Evans leaving team mates Steven Waters & Allan Callow a huge mountain to climb needing to win 21-10 or better against home greeners Tony Hart & Anthony Kelly to progress into the next round. Waters & Callow did just that winning 21-10 to win the tie 32-31.
The winning team on the day were home greeners Austin Hart, James Teare, Alan Moore & Glynn Hargraves who defeated club mates Kim Hargraves, Jenny Moore, Fiona Kennish & Elaine Moore in the final (42-27).
Losing out at the semi-final stage to the eventual winners were the husband and wife pairings of Derek & Lynda Cadamy, who were teamed up with Alec & Philippa Taylor. The Cadamy's lost out to 9-21 to Hargraves & Moore, whilst the Taylor's lost out 12-21 to Hart & Teare.
Also falling at the semi-final stage was the south team made up of Derek Allen, Bernard Thackrah, Margaret Tasker and Caroline Whitehead who just lost out to the South Ramsey Ladies team in a finely balanced tie. Elaine Moore & Fiona Kennish got over the line 21-18 against Allen & Thackrah, whilst Jenny Moore & Kim Hargraves lost out 19-21 to Tasker & Whitehead but in doing so the South Ramsey team scored enough to book their place in the final (40-39).
The presentation was made by South Ramsey Chairman Steve Moore who thanked IPS Administration for their continued sponsorship, those who had helped prepare the green, the club members for assisting throughout the day, the ladies for providing an excellent selection of refreshments and all the new players who participated.