Monthly Archives:
June 2017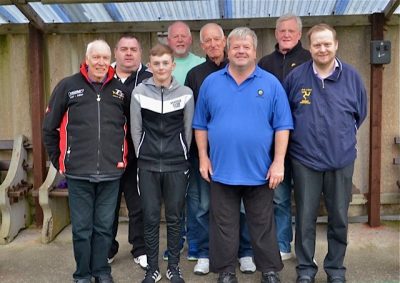 With TT week over all three divisions featured this week in the Ellan Vannin Fuels sponsored Mens League before another week off for the June Bowling Festival.
Tie of the round on paper was Onchan A vs Port St Mary A. Port St Mary had two of their strongest players missing and Onchan eased to a 7-3 win beating the southerners by 39 chalks. Matthew Quirk and Jordan Cain both won to single figures and Trevor Quayle maintained his 100% record. Stand-in and stand-out performer was Steve Franks who beat Phil Kerruish 21-18.
Title favourites and defending champions South Ramsey A picked up a comfortable 8-2 win on the road at Castletown A. Dave Hollingworth beat Stefan Kelly and Peter Oates came from 18-12 down against Dave 'Dido' Kelly running out 21-18 to salvage some points for the Balley Chashtal men.
Marown A remain second after their visit to Mooragh Park to play North Ramsey A winning both halves of the match 3-1 to take the aggregate and an 8-2 win back to Crosby. The final match score doesn't reflect a couple of the games with both Neil Withers and Colin Kelly lying game down before winning 21-19 and 21-20 respectively. Geoff Porter and Tony Smart picked up wins for the home side.
Peel Sunset A bounced straight back from losing last week to defeat Port Erin A 9-1. There were big wins for Peel in most of the games but Seamus Whelan 20 and Steve Durcan 19 came close to snatching some precious points. Peel remain third but sit out the next round of matches and will wait to see where they are at the half way stage.
Douglas A went over the mountain to face South Ramsey B and despite winning 7-3 will feel they missed out on a 9-1 win having lost two games 21-20 with Ben Dugdale and Sid Bolton sneaking over the line against former home greeners Gary Conwell and Andy Kennish.
Douglas B remain at the foot of the table but clawed a couple of points back by beating relegation rivals Castletown B 6-4
In Division Two Onchan B still lead the way at the top at the after a 7-3 away win at North Ramsey B.
Nobles B faced up against their A team and incredibly won 8-2 to keep themselves in third position and challenging for promotion.
Port St Mary C were hoping to create a similar derby upset against their B team but it wasn't to 'B' as they went down 7-3 and by a large 44 chalk margin. Port St Mary B finally close to within a point of the C team in the league and will be hoping to kick on after a poor first half of the season.
Finch Hill A have struggled making their home green a fortress this season, but will be happier following a 7-3 win over promoted side Port Erin B.
The gap now at the bottom of Division Two is over 20 points with both Douglas C and Onchan C well off the pace. Douglas C went down 9-1 away to Peel B whilst Onchan C lost 8-2 home to Marown B. Both will be staring down the barrels of relegation in September without a massive turnaround.
A similar gap exists at the bottom of Division 3 with both Finch Hill B and Douglas D over 20 points behind their nearest rivals. Douglas D lost 9-1 at home to Peel D and South Ramsey D beat Finch Hill B 7-3
Another club derby took place this week with Ballaugh B taking on their C team who sit 20 points ahead of them in the league. The match must have been a thriller with the two sides playing out a true draw 4-4 on games and 136-136 on the chalks. Youngster Patrick Grant continued his impressive form beating Dicky Watson 21-20 in a game which was the difference between a 5-5 draw and a 7-3 loss.
With Ballaugh C drawing Peel C leapfrogged into top spot with a crushing 9-1 165-108 victory over Nobles C. Marown C who started the season well, have slipped off the pace in their last couple of games and lost at home to Castletown C 8-2
With a week off for festival the league will return on the 26th June for round 13 and will complete the first half of the season. No matter what results are thrown up South Ramsey A will be top of the League going into the second half of the season and are favourites to retain their title. Marown A and Onchan A will fight all the way for top spot and Peel A, Douglas A and Port St Mary A will not give up their own pursuit easily of a top three finish.
The week of the 26th also sees the Quarter Finals of the Rayner Shield and Plate. Tie of the round in the shield sees Port St Mary A making the trip away to South Ramsey A who have not lost a home match since July 2015. On that night it was Port St Mary A who defeated them 7-3 picking up the aggregate by a single chalk.
In the Plate Port St Mary B have setup a southern derby against Port Erin B and the sole remaining Division One team Ballaugh A are away to Onchan C.