Ballacashtal Cup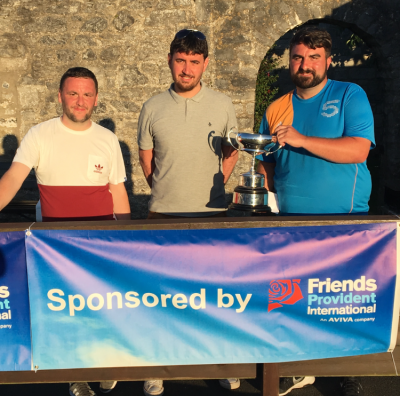 The traditional curtain-raiser to the week-long Bowling Festival took place on Sunday on a fast and tricky Castletown playing surface. The event has taken an upsurge in popularity in recent years which has prompted the organisers to limit the entries to 96 and from this star studded field it was a previous Festival winner Mark Hughes from the Crossgates club in Leeds who took the honours beating Nicky Burridge from the Wirral 21-16 in a see-saw, quality final.
In the final stages which were dominated by visiting bowlers Hughes had beaten Ian Johnson (Calow BC, Derbyshire) in one semi while Rishton's Mick Lee fell to Burridge in the other.
Only one local bowler reached the last 8, South Ramsey's Glynn Hargraves, while the other losing quarter finalists were Wayne Jeavons (Wirral), John Colebourne (Calow) and Keith Middleton from Chapel Park BC.
At the end of the prestigious competition the home Club's President Ron Williams mentioned how grateful the club was to Denny Oates and his daughter Kath Kinley for organising the event and he also thanked the club members who had worked through the day.
He finally spoke about the magnificent sponsorship provided by Friends Provident International before introducing company official, and local sportsman, Adam Drewett to present the prizes.