Brothers Are All Hart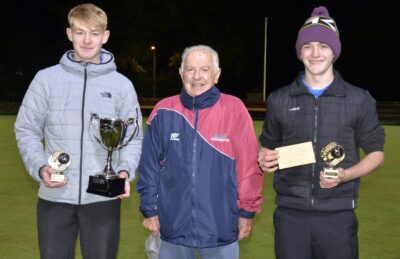 Marown Bowling Club hosted the Juan Kelly Cup with the competition now in its sixth year 49 pairs took part just beating last year's entry of 48. There were some interesting pairings making use of the handicap system which was played over two qualifying nights (Sunday and Monday), with four pairs qualifying each night in order to qualify for the finals night on Wednesday evening.
The format was any combination doubles, played over 15 ends with ends 5, 10 and 15 played as 'power' ends with the points scored counting double. The pairs were given a handicap based on their rankings in the Men's and Ladies game. If scores were tied after 15 ends a one bowl shootout would take place to decide the winner.
There were some high profile casualties on both qualifying nights, in particular on Monday when a host of strong pairings made an early exit.
For finals night a re-draw took place to determine who the pairings would play on the night, with a good mixture of high and low handicaps still in the competition. The excellent floodlights came into good use for the duration of the competition.
Losing quarter finalists were home greeners Glenn Boland and Peter Jones (+2), who lost heavily to Port St Mary pair Jordan Drewett and Nathan Hamilton (+4) 10-23 with the game finishing two ends early as the latter pair could not be caught, while Derek Allen (Port Erin) and Steve Parker (Onchan) had a +4 handicap against Peel pair Tommy McMeiken and George Gadsby who were off +3, with the Peel men winning 18-15. The Port St Mary Husband and Wife pairing of Steve and Mavis Franks (+7) couldn't get going until end 10 against South Ramsey's David Bradford and Peter Collister (SCR) as they lost out 14-21. In the last quarter final another South Ramsey pair progressed with brothers Toby and Austin Hart seeing off Peel men Stevie and Dave 'Barney' Kelly 16-15, with all to play for on the last end the Hart brothers got the single they needed to score a two to leapfrog their opponents to win the game.
The semi-finals were fairly straightforward for both winning pairs with Drewett and Hamilton booking their place in the final with a 22-14 win over McMeiken and Gadsby, while the Hart's stepped up a few gears – with the match finely poised at 13-14 against Bradford and Collister after 11 ends, the brothers scored a two, a four a three and a single to finish strongly with a 24-14 win.
The final got underway with the South Ramsey pair (+6) having a slight two chalk advantage over the Port pair (+4) it looked like it could be a close final with both pairs exchanging singles over the first four ends to leave the score at 8-6. On the first power end the Hart's made their move as they scored a two, which doubled up to a four. From there they scored another four on end seven, followed by a single on end nine, in between conceding three chalks over two ends.
With Drewett and Hamilton chasing the game trailing 9-17, the second power end looked to be going against them as they were lying two down, with Hamilton killing the end no points were scored. After scoring a single on the following end any hopes of a comeback were extinguished as they conceded a single, followed by a four to put the score at 22-10 with just two ends remaining. This would have require a minor miracle to score two maximums just to tie, however end 14 became a dead rubber as Toby and Austin had their bowls well positioned to ensure this didn't happen as they scored two to take their first win in this competition, with both brothers performing extremely well over both the qualifying night and the finals night, they fully deserved this victory.
At the conclusion of play the presentation was made by Marown Club President Peter Kelly, who thanked Juan Kelly for once again sponsoring the competition, the Ladies for the refreshments over all three nights, everyone who entered, and all those who came to support. The sponsor Juan Kelly was then introduced to present the prizes with £560 paid out.
The proceeds from the kitchen and the raffle from this competition and the Autumn Shield held at Marown in early September resulted in the club raising over £1,300 towards Charity following the loss of three Life Members this year – Bert Winckle, Ian Kissack and Pat Withers with four charities receiving donations – The Parkinson's Society, Hospice Care, Peel and District Anti-Cancer and Sight Matters (Manx Blind Welfare).