Firth & Moore Reach Final of BCGBA Mixed Pairs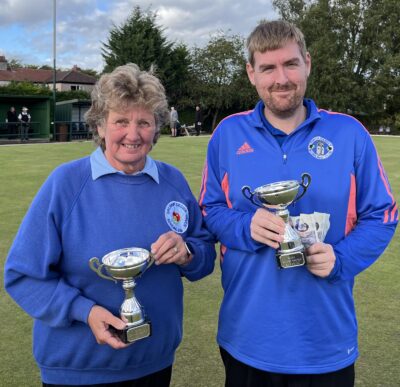 The 2022 BCGBA Mel Evans MBECentenary Mixed Pairs was held on Saturday 1st October at Owley Wood Recreation Club, Barrymore Road, Weaverham.
The first game of the day got underway at 10:00 with Paula Firth (Onchan) and Alan Moore (South Ramsey) facing Amy Ryder and Mark Owen (Shropshire) on the number one green with the IOM pair going into a 15-4 lead, eventually going onto win 21-13.
South Ramsey's Elaine Moore and Glynn Hargraves were on the number two green, as they faced Warwick and Worcester pair Tracey Baker and Jason Galvin with Elaine and Glynn leading 16-10 and counting for three only for a great last bowl from Galvin to trail the block for two. From there the IOM representatives picked up just two more chalks as they lost 18-21.
Also on the number two green another South Ramsey pair – Jenny Moore and James Teare, they managed to see off the Wales pair of Linda Williams and Ritchie Jamieson 21-12, keeping their opponents to just one double with the rest of the points scored being singles.
In the Last 16 Jenny and James were up against Catherine Lockwood and Peter Hawkes (North Lancs & Fylde) finding themselves in a spot of bother trailing 13-19 after conceding two fours, however they did pick up three trebles. Trailing by one chalk at 19-20 and counting for four, with two bowls easily inside a foot, Lockwood pulled out bowl of the day to win the game 21-20 in a tough to take last end for the South Ramsey pair.
Paula and Alan faced Warwick and Worcester's Michelle Jones and Ben Harris with the latter pair winning just seven ends to Paula and Alan's 12 ends. The W&W pair went into a 20-17 lead, with Alan saving game on more than one occasion with his ability to strike, as they managed to pick up a double and two singles to sneak home 21-20 to reach the next round.
At the quarter final stage Firth and Moore were the last IOM representatives left as they faced Abbie-Jo Rhodes and Simon Rhodes from South Yorkshire. Trailing 7-9 the Onchan/South Ramsey pair shifted up a few gears as their opponents scored just one more chalk, scoring two fours, a double and four consecutive singles to see the game out 21-10.
At the semi-final stage Firth and Moore were always in control of the game against another South Yorkshire pair Andrea Ainley and Richard Moore as they booked their place in the final with a solid 21-13 victory.
In the final Firth and Moore faced Staffordshire pair Jordan Picken and Steve Davis who had just seen off the pair that had earlier put Jenny and James out of the competition. In their fifth game of the day they struggled to get going as whilst they kept their opponents down to singles and doubles they found themselves with a 4-17 deficit.
A mini comeback followed as they managed to sneak into double figures as they lost out 10-21, however both should take pride in their performances over the day.