Canada Life International – Rayner Plate Preview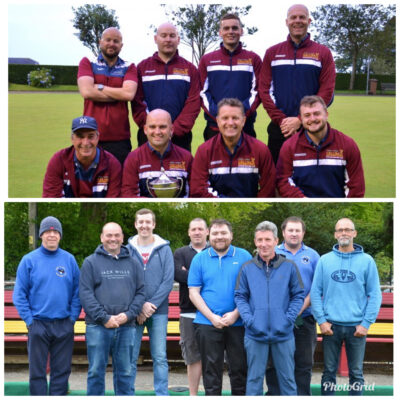 The final of the Canada Life International sponsored Rayner Plate takes place on Friday evening between second division side Marown C (+42) and Division One's Port St Mary A (+15) in a repeat of the 2019 final held at Onchan, which the Crosby men won convincingly on the night by 35 points (188-153) to cause a massive upset as Marown had a 40-point start on the Port Men last time out.
Marown C (+27) reached the final courtesy of a convincing 8-0 home win over Ballaugh C (+66), despite having to make up 39 chalks they won by 40 chalks (195-155) on the night to take their place in the final, while Port St Mary A (SCR) advanced with their 8-0 home win over Marown B (+24) winning comfortably by 45 chalks as they pulled back the 24 head start that the Crosby men had at the start of play.
This time the difference between the teams is a 27-point head start for Marown C, with handicaps based on the previous seasons league positions they will look to hold onto this as they still have six of the eight men from the 2019 victory in their squad, along with a further two years' experience.
The Marown men led by captain Stephen Rundle are performing well in Division Two, will fancy their chances as they have three or four players in their C Team pushing to move up to the B Team next year as they continue to improve. Last time out they won four games against Port and the hero of the night was undoubtedly Jamie Joughin as he won 21-8 against Wayne Roberts, he is certainly one of the Marown men who will be looking to pick up a win.
Port St Mary have had a change of captain with Wayne Roberts now leading them, they recently played their last ever home fixture, they are in their third straight Rayner Plate final, having lost out to Castletown B last year they will not be underestimating their opponents this time out. Similar to the Marown team they still have six players in the squad from the 2019 final, they will be looking to get off to a good start to pull the handicap back with their big hitters Trevor Quayle, Paul Skelly and Wayne Roberts more than capable of inflicting heavy defeats on their opponents.
Marown C will be hoping for their third success in this competition which is remarkable considering they only went into the night league in 2016, while Port St Mary A will be looking to pick up their second victory following their first title picked up in 2016 against Port Erin A.
The match starts at 7pm. Best of luck to both teams for what promises to be a fascinating encounter.