JENNY MOORE MAKES HISTORY WITH TOP U.K. TITLE WIN IN BRITISH SENIOR MERIT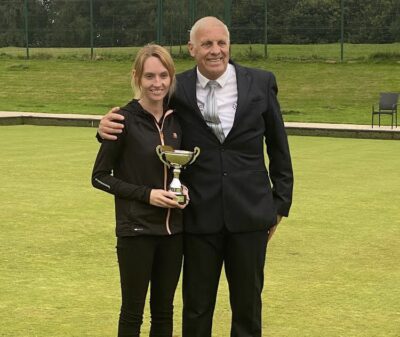 Jenny Moore (South Ramsey) and Janet Monk (Mooragh Park) travelled to Heaton Park Bowling Club, Manchester to compete in the British Crown Green Bowling Association Ladies Singles Merit Trophy competition on Sunday 15 August with an entry of 64 ladies who qualified through their respective counties. The British Merit title is highly sought after with many of Britain's top lady bowlers taking part.
On the tricky No.1 green Jenny was up against No.1 green against Sue Nugent from Merseyside. Jenny got off to a great start playing a mark over the crown and with her opponent not getting to grips with this Jenny won comfortably 21-2.
Janet's first game was on green No.2 against Steph Witherspoon from Warwick and Worcestershire which had more of a crown than the No.1 green. Steph started off the better building up a lead, but Janet never one for giving up, dug deep and started to pull back the points to level the score at 19 all. It was then Steph's turn to dig deep and playing good lead bowls on the following two ends won 21-19.
Jenny's second game was against Mandy Wilks from North Derbyshire. This was a much closer game with Jenny eventually winning 21-16 to go through to the quarter finals.
In the quarter final Jenny was up against Jayne Kent (previously Jayne Hamilton) from South Yorkshire. This was a real battle with the game going to and fro, but with a final flourish Jenny ran out 21-18.

At the semi-final stage Jenny went on against the experienced Sue Worrall from Mid Cheshire. Again this was another tough game for Jenny but as in her previous rounds Jenny upped her game to take the semi 21-17.
In the other half of the draw, Louise Ollerton from Greater Manchester won her semi-final 21-14 against Julie Alderman from South Staffordshire who had just beaten the 2019 British Merit winner Nicola Boulton from Mid Cheshire in the quarter finals.
With the atmosphere around the green becoming tense and exciting and with both ladies playing exceptionally well, the spectators and the remaining players anticipated a great final and were not disappointed. Jenny got off to a strong start leading 10-2 on the 8th end. Louise then got into her stride taking six of the next nine ends to trail 10-14. Jenny then clicked up a gear taking the next six ends to win 21-10.
This was a proud moment for Manx bowling and for Jenny and her family who were there supporting, but most of all a massive and emotional achievement to become the first Manx lady to win a British Association Ladies singles competition.
The previous day, Saturday 14 August, the British Crown Green Bowling Association held the Junior Merit Trophy competition again at Heaton Park. 32 Junior county merit qualifiers took part with Shannon McMullan (Mooragh Park) and Toby Hart (South Ramsey) representing the Isle of Man. First on the green was Shannon who took on Jordyn Hughes from Staffordshire. Shannon started off strong and halfway through the game it was 11 across before Jordyn got his length and stride to run out 21-11.

Toby was up against Tom Farmer from the Potteries and District. Although Toby played some great bowls during the game, Tom was too strong on the day winning 21-8. Both Shannon and Toby should be congratulated on the way they played and their conduct on the green. The future of crown green bowling on the island is certainly shining bright!