No Change at the Top – PSM Play Last Home Game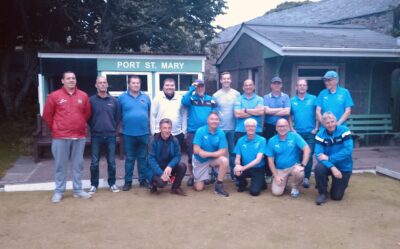 In Ellan Vannin Fuels Division One it was an emotional night for the home team Port St Mary A played their last ever league fixture on the current green, signing off in style as they beat North Ramsey A 8-2. Five single figure wins went in favour of the home team as Trevor Quayle beat Paul Cannan 21-1, Wayne Roberts beat Ray Skelly 21-3, with Paul Skelly not far behind as he on 21-5 against John Cannan, while Robbie Cooil and Tim Williams won 21-8 against Tony Smart and Allan Callow respectively. Winners for the Mooragh Park men were captain Gary Merrill as he beat Tom Collins 21-15, while Steve Walmsley won 21-18 against Dan McCabe.
Marown A visited second from bottom Ballaugh A with the home team managing to take two games off the Crosby men as they did to South Ramsey A recently as they lost 2-8. Tony Quine pulled off a stunning 21-18 over Marown captain Paul Dunn, while Edgar Cowin beat Phil Kelly 21-20. The result may have been worse for the visitors, however Juan Killip edged home 21-19 against John Keenan, while Paul Kelly just got the win 21-20 against Barry McDonald. John Gelling came back into the team in place of Dean Kipling as he won 21-9 against John Maddrell, with Matthew Keggen, Colin Kelly and Neil Withers the other winners.
Peel A hosted Castletown A with the home team taking a good 8-2 win with captain Gary Smith recording the biggest win of the night as he beat Peel Town Cup Finalist Dean Kinley 21-6. For Castletown Bob Clark won 21-12 against Darren Young, while Jordan Drewett beat Peter Greenlees 21-18. All of the home wins for the Peel men were comfortable.
Toughest match on paper this week was South Ramsey A who hosted Onchan A. After four games South Ramsey were 4-0 up on games, with David Bradford up against Reg Temporaza, after recovering from a 2-9 deficit Bradford took charge to win 21-16. South captain Glynn Hargraves beat Phil Kerruish 21-12, Peter Collister won 21-10 against Mark Kelly, while James Teare dug deep to run out from a 16-19 deficit to win 21-19 against Steve Parker. Onchan hit back with Matthew Quirk winning 21-6 against Chas Grills, with Jordan Cain also winning as he beat Stefan Kelly 21-16. Dave 'Dido' Kelly made no mistake as he beat Kevin Quirk 21-7, while Alan Moore had to battle to overcome Frank Watson 21-18.
Douglas A recorded a 7-3 home win over Peel B with all the games reaching double figures. Winning for Peel were Dougie Allan who beat Merv Sayle 21-15, David Smith beat Jimmy Sansom, while David Proctor had a tough battle with Ian Moore before winning 21-18. For the home team Kevin Firth recorded the biggest win as he won 21-10 against the 'real' Paul Quirk, while Andy Cannell didn't have it all his own way as he won 21-17 against Michael Kavanagh, with Shaun Seal continuing to go well in the individual merit as he beat Paul 'Pooky' Quirk 21-18.
Marown B picked up their second successive win as they beat Noble's A 8-2 at Crosby. For the visitors Les Brookes caused an upset as he beat Glenn Boland 21-17, while Dave Naughton beat Brian Cain 21-15. For the home team Kevin Kelly beat Mark Kneen 21-8, with Darren Kerruish winning to the same score against Juan Qualtrough, while Karl Parker had to work hard for his 21-19 win over Martyn Hobson, as did Bobby Thorne with his 21-20 victory over Stephen Hampson.
In Division Two South Ramsey B continue to be consistently inconsistent as they travelled to Onchan B, with the home team winning 8-2. Whilst the result wasn't surprising Neil Dunwell did cause an upset as he beat Tony Dugdale 21-13. The only winners for the visitors were Steven Waters who beat Mike Kelly 21-15 and Bryan Corner who won 21-11 against Mike Thomas. For the home team Colin Spence beat Edward Carlyle 21-7, Mike Alexander won 21-1 against Tony Marler, while Paul Clinton just snatched a 21-20 win against Ben Dugdale. Onchan B are just three points behind South Ramsey B with a game in hand.
Finch Hill B had a good week as they won 7-3 against Rayner Plate Finalists Marown C, with just three chalks separating the teams (135-132). For the visitors Walter McCarthy won 21-9 against Brian Atherton, as did Jamie Joughin as he beat Chris Thompson. Finch Hill had one single figure win from Stephen Oates who beat Marown captain Stephen Rundle 21-8.
Castletown B and Finch Hill A did each other no favours as they played out a 4-4 draw with the Town men getting the 6-4 win as they easily won the chalks (141-115). Castletown B are still well placed to return to top spot as they sit just two points South Ramsey B, also have a game in hand.
Peel Sunset C made light work of visitors Port St Mary B as they won 9-1 on Tuesday evening with Will Cain the lone winner for Port as he beat Ian Pendlebury.
The closest match of the week was between South Ramsey C and Port Erin A who played a 5-5 draw. The home team only won three games, however they secured the aggregate by four chalks (141-137) helped by James Evans winning 21-6 against Peter Addison.
In Division Three Onchan C occupy top spot following their 8-2 home win over Castletown C, whilst Ballaugh B remain in contention nine points behind with a game in hand following their 3-7 win against their lower ranked C Team. Noble's B had a good 8-2 home win against Peel D, with Andrew Cover and Philip Pemberton both winning close games to prevent the whitewash, while Port Erin B came away from the Villa with a 2-8 win over Douglas C.