Gawne & Kennish Win Commissioners Cup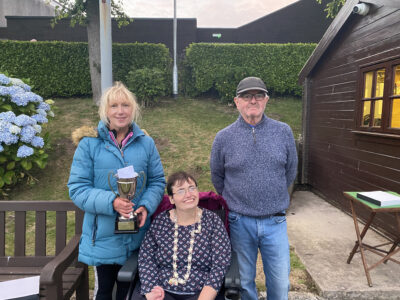 The Onchan Commissioners Any Combination Doubles took place on Sunday with a strong field of 33 pairs.
The unfortunate prelim round losers were Sam Clague & Dean Kinley (Castletown) beaten 21-18 by Glynn Hargraves (South Ramsey) & Bob Clark (Castletown). The Round of 32 went to form with no great shocks. Amanda & Martha Butler (Marown) took a creditable 9 against Paul Dunn & Neil Withers (Marown). Marown's Evan Leece played well to carry Arnie Withers to 15 against Derek Allen (Port Erin) & Bernard Thackrah (Port St Mary). Closest game saw Steve Parker & Kevin Quirk (Onchan) narrowly beat the South Ramsey team of Alan Moore & Chas Grills 21-20.
Last 16 saw Paul & Willie Cowley (Douglas) win to single figures as did Trevor Quayle & Wayne Roberts (Port St Mary). The progress of Parker & Quirk was halted by home greeners Mark Kelly & Reg Temporaza. Walter McCarthy & Glenn Boland (Marown) narrowly missed out 21-20 to Sue Gawne (Onchan) & Andy Kennish (Peel). A similar fate was met by Dunn & Withers at the hands of Hargraves & Clark. The local derby saw Mike Thomas & Neil Dunwell overcome Jo Kelly & Paul Clinton 21-16.
The quarter finals saw Kim Hargraves & Peter Collister (South Ramsey) defeat the Cowley Boys. Roberts & Quayle ran out from 17 across against Kelly & Temporaza. Zain Naeem (Finch Hill) & Jan West (Douglas) saw their earlier form leave them against Gawne & Kennish. Hargraves & Clark (of pink hat fame) rounded off the quarters by beating Dunwell & Thomas.
Semi-finals lined up Kim Hargraves & Collister against Roberts & Quayle; Gawne & Kennish versus Glynn Hargraves & Clark. It was good to see larger than usual numbers stay to watch these very competitive match ups. Going through to the Final were Roberts & Quayle winning 21-13 along with Gawne and Kennish by a margin of 21-11.
As the clouds thickened, the final got under way with some very evenly contested ends. Roberts & Quayle began to take control & were leading 18-12 before their opponents began to regain their touch. A result of 21-19 in favour of Gawne & Kennish bore testament to their ability to dig in.
Thanks were given to all those that helped on the day. The trophy & prizes were presented by Kathryn Williams, Vice Chair of Onchan Commissioners to whom the Club are grateful for the continued support.