Mens Over 60's Season Preview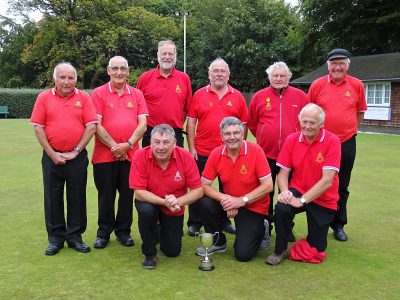 Tuesday 3rd April sees the start of the Men's Over 60's Season with last years Champions Castletown A opening with a short trip to Port Erin which could see them having to dig deep to come away with a win. At this time of the year all Greens will be slightly slow and with Port Erin never being the quickest the Castletown men may find themselves under pressure from the home team.
Last seasons runners up Port St Mary A may find themselves with the same difficulties in their trip to Onchan B, again on a Green which is not the quickest and may suit the home team although I do expect the Southerners to come away with a win.
Onchan A travel to Ballaugh A for what could be a very close game and with Ballaugh having a couple of new players I will tip this one for a draw.
Peel Sunset A host Marown A and again I anticipate a tight match here but would expect home advantage to swing things in Peel's favour but I wouldn't be confident enough to bet on it.
Nobles A host Peel Sunset C and although the Westerners finished bottom of the table last year I expect them to do much better this term although on this occasion I would expect Nobles to get the win.
Douglas A host Ballaugh B at the 'Villa' and although the Douglas side look favourites on paper I think the men from Ballaugh will give them a tough battle.
Castletown B have a home match against Douglas B and again on paper the Castletown Team should be favourites. I expect the Douglas lads will be looking to improve on last years position and will give them a close game.
Port St Mary B host Peel Sunset B which will once again be a tough match and here we have two teams who are used to playing on a challenging Green so this will add to the interest and I am going to sit on the Fence and predict a draw here.
South Ramsey have a visit from Nobles B and I am not sure of the strength of either of these teams this season but will go for South Ramsey to use home advantage and take the points.
Finch Hill A see North Ramsey B coming into Douglas for a game which once again it is difficult to predict because although it is rumoured that Finch Hill have a number of new players we will have to wait and see who turns out on the day.
The last match of the opening Day will actually be played on the Wednesday as the North Ramsey Club are having to play all of April's matches away from home due to difficulties with their Green at the Mooragh Park. This then sees North Ramsey A travelling to Finch Hill B and I really can't see the home side being strong enough to beat the Northerners although I am sure that they will give it their best shot.
So that covers the first day of the new season which I think will see an intriguing battle for the League Championship and I think that this time Castletown A may well struggle to hold of the challenge that will be put up by a number of other teams.
I see a much closer battle with Port St Mary A, Peel Sunset A, Onchan A and North Ramsey A all being capable of posing a tough challenge to Castletown A.
Time will tell as to how bad my predictions are so for now polish up your bowls, pray for sunshine and enjoy your bowling.