South Ramsey A Claim First Ever Division One Title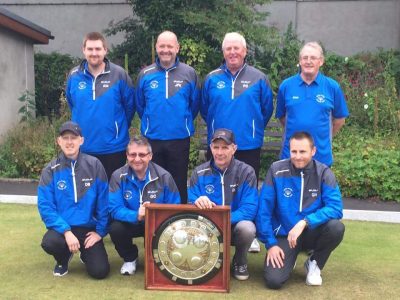 South Ramsey A have done it! They have won their first ever Ellan Vannin Fuels League Division One title.
It is nothing more than they deserve after a season which they dominated for the most part, although they didn't sign off their campaign the way they would have hoped narrowly going down 6-4 away at Port St Mary A.
Port's impressive victory was enough to ensure they secured fourth spot and hold off a fast finishing Douglas A side who turned on the style down the road as they beat Port Erin A 9-1 to finish two points adrift in fifth.
Four points for South away from home were enough to clinch victory finishing six points ahead of Marown A who ended their challenge with an 8-2 win over Douglas B to take second place.
It is hard to explain to people from outside the local bowling fraternity how impressive this win is as the sport has been so ruthlessly dominated by Onchan A and Marown A in recent memory and for anyone to break this stranglehold is a monumental achievement.
The last time neither of the old firm won the title was in 1996 when Casteltown A took top spot, and for the past fourteen years Onchan and Marown have occupied both first and second places.
South have been simply superb this season and they add this league title to the Rayner shield that they won a few weeks ago. Club stalwart John Kennish finished the season unbeaten to take the Division One Merit ensuring his side completed a clean sweep of all the major honours. Congratulations to both John and South Ramsey on the clubs finest ever season, and with the players in their ranks it would be hard to be against them doing the same next term.
Although Onchan A had to relinquish their title they finished the season in fine form beating South Ramsey B 10-0. They have been magnificent champions and will be remembered as such and if they can start their next title challenge the way they ended this one they things could be very different.
North Ramsey A defeated Nobles A 7-3 to finish in sixth spot and relegate their opponents along with Finch Hill A who had no game this week.
Ballaugh A completed an Houdini like escape as they picked up a surprise 7-3 victory over Castletown A to finish just one point above the relegation zone and ensure they kept their seat at the top table for 2017.
Overall this has been a memorable season with some brilliant bowls played, some unbelievable shock results but I have to say in the end the best team won and South Ramsey A deserve all the accolades and plaudits afforded them.
I think next year could be an even more thrilling season and I approach the winter break with bated breath in anticipation of what the 2017 season could have in store for us.
I would like to end by thanking Ellan Vannin Fuels for their sponsorship of the leagues and for forming a partnership that is helping the bowls association develop the sport on the Island.