Gawne & Kelly Win Juan Kelly Cup With One Bowl Shootout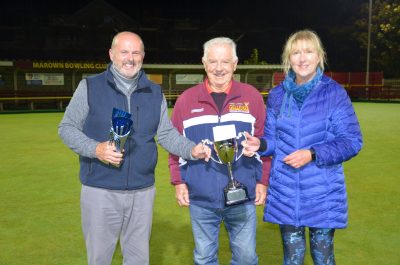 Marown Bowling Club hosted the Juan Kelly Cup with the competition now in its fourth year it proved more popular than ever with 62 pairs taking part. There were some interesting pairings making use of the handicap system played over the three qualifying nights, with 2 pairs qualifying on Sunday evening, and three pairs qualifying on Monday & Tuesday night to reach the quarter finals.
The format was any combination doubles, played over 15 ends with ends 5, 10 and 15 played as 'power' ends with the points scored counting double. The pairs were given a handicap based on their rankings in the Men's and Ladies game. If scores were tied after 15 ends a one bowl shootout would take place to decide the winner.
On Sunday evening 16 pairs played their qualifying night, whilst Monday and Tuesday had 23 pairs taking part on both evenings. The finals night was held on Wednesday evening, with a re-draw taking place to determine who the pairings would play on the night. The floodlights came into good use for the entire duration of the competition.
Losing quarter finalists were home greeners Colin Kelly & Juan Killip, who were comfortably beaten 15-24 by clubmates Walter McCarthy & Darren Kerruish, Kim Hargraves & Austin Hart (South Ramsey) were heavily defeated 11-29 by Sue Gawne (Onchan) & Brian Kelly (Marown). In the other half of the draw Ryan Hargraves & Glynn Hargraves (South Ramsey) cruelly lost out on the last end 17-18 to Phil Kerruish (Onchan) and Andy Foster (Douglas), whilst Philippa Taylor (Marown) & Alec Taylor (Peel) lost 16-18 to Derek Allen (Port Erin) & Bernie McPhee (Onchan).
The semi-finals were comfortable for both pairings that reached the final with Sue Gawne & Brian Kelly winning 25-7 over Walter McCarthy & Darren Kerruish, whilst Phil Kerruish & Andy Foster claimed a 20-13 victory over Derek Allen & Bernie McPhee.
The final was well contested with both pairings off the same handicap of four, there was little to choose between the teams. Kerruish and Foster worked hard to build up a four point lead (18-14) with 14 ends played, with Gawne & Kelly lying one on the last end only another counting bowl would do to tie the match. Kelly played a wonder bowl to count for two which doubled up to four points with the last end being a 'power' end. This tied the match at 18-18 with the final going to its first ever one bowl shootout. With Kelly & Gawne winning the toss Kelly sent his jack into the corner his bowl just over a yard away, which Kerruish fell short of beating in a thrilling finish to the final resulting in Sue & Brian claiming their first open competition success as a pairing.
At the conclusion of play the presentation was made by Phil Kelly, who thanked Juan Kelly for once again sponsoring the competition, the Ladies for the refreshments over all four nights, the players for entering, and all those who came to support.