Cooper & Hargraves Win Douglas Town Cup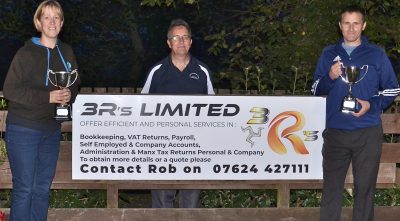 The 3R's Limited Douglas Town Cup staged by Douglas Bowling Club at the 'Villa' on Saturday 21st September saw some great bowls in both the Ladies and Men's competitions.
On a green that was running really well we saw a few of the bowlers taking a few ends to adjust to the green and then they soon settled down to produce some excellent bowls and a lot of close games.
In the quarter finals of the Ladies Competition we saw Margie Tasker (Port St Mary) beat Amanda Lawler (Castletown) 21-18, Sylvia Kennaugh (Noble's) had a 21-15 win over Caroline Whitehead (Port Erin), Clare Cooper (Noble's) beat Fiona Kennish (South Ramsey) 21-17 and Paula Garrett (Douglas) took a 21-11 win over Kim Hargraves (South Ramsey).
The semi-finals saw both the 'Nobles' players on great form with Sylvia Kennuagh beating Margie Tasker 21-16 and Clare Cooper beating Paula Garrett, also 21-16.
In the final we saw Clare Cooper who had played well all day despite suffering with back pain again play well and prove to be too strong for Sylvia and it was Clare that ran out the 21-13 winner.
In the Men's Competition at the quarter final stage we saw Glynn Hargraves (South Ramsey) beat team mate Stefan Kelly 21-18, Stuey Garrett (Douglas) lost 20-21 to Steve Waters (South Ramsey), home greener Merv Sayle beat team mate Andy Cannell 21-13 and Paul Dunn (Marown) also beat team mate Neil Withers 21-13.
The first semi-final saw Glynn beat Steve Waters 21-18 while Paul Dunn beat Merv Sayle 21-15.
The final was a great battle between two top bowlers with both Glynn and Paul playing some exceptionally good bowls which provided great entertainment for the watching spectators. It was evident from the start that this was going to be a battle that would go down to the very last bowl and this was proved to be true with Glynn just snatching the honours at the end to win an epic battle 21-20.
The trophies were presented by Rob Mathews of 3R's Limited who said how impressed he had been with the afternoons bowling. In their speeches both the winners thanked the sponsors and Douglas Bowling Club for putting on the competition and they also praised the condition of the green.