Callow & Moore Win Corkhill & Callow Over 60's Any Combination Doubles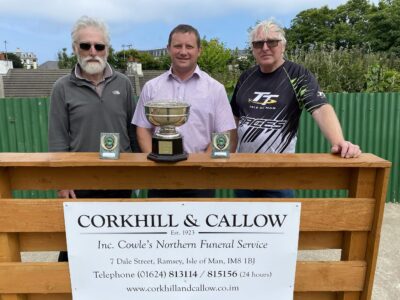 South Ramsey Bowling Club hosted an Over 60's any combination doubles competition sponsored by Corkhill and Callow Funeral Directors with 16 pairs taking part on a superb surface on a fine day.The competition was last played for in 2011 and was previously known as the Pro Tours Gold Cup.
The quarter finals had the husband and wife pairing of Steve & Judy Kelly (South Ramsey) lose out 17-21 to Peel pair Dougie Allan and Gordon Corrin, whilst Elaine Moore (South Ramsey) and Kevin Firth (Douglas) were defeated 18-21 by Marown duo Philippa Taylor and Lynda Cadamy. The home green pairing of Richie Davies and Bryan Corner were well beaten 10-21 by Chris Price (Port St Mary) and Les Brookes (Noble's). Rounding off the quarter finals South Ramsey's James Moore and Bill Callow ensured it was the end of the road for Derek Allen (Onchan) and Lee Dawson (South Ramsey) with a 21-16 win to take their place in the next round.
In the first semi-final the ladies Taylor and Cadamy coasted through their game against Peel pair of Allan and Corrin only losing three ends, winning 21-10 to reach the final. Joining them in the final was home pair Moore and Callow, who themselves only lost four ends winning 21-13 against Price and Brookes.
The final was extremely well contested with Moore and Callow taking three singles on the first three ends to lead 8-5, only for a swift response from Taylor and Cadamy to win three consecutive ends, scoring a two, a four and a single to lead 12-8 after six ends. Moore and Callow stepped up a couple of gears to take the next six ends scoring 12 points on the way to lead 20-12. Taylor and Cadamy hit back with a three and a double to make the score 17-20, only for Moore and Callow to score the single chalk they needed to take the victory.
At the conclusion of the competition the presentation was made by competition secretary Kim Hargraves, who thanked Corkhill and Callow Funeral Directors for sponsoring the competition, the club members who helped with the running of the competition and the Ladies for the refreshments provided throughout the day. Tim Pressley from Corkhill and Callow was then introduced to present the prizes.