TEARE'S OF JOY FOR REBECCA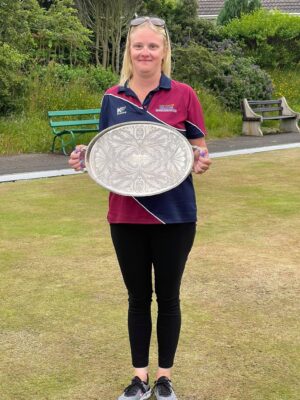 On Saturday a small entry of 22 ladies took part in the Ladies Association Open Age Manx Championships at Port Erin. The weather was sunny and warm with spectators being treated to some exceptional bowling during the afternoon.
Getting through to the first semi-final were Marown ladies Rebecca Teare and Lil Smith, with the second semi being mother and daughter Elaine and Jenny Moore from South Ramsey. In the first semi, Rebecca just had the edge over Lil winning 21-11. The other semi was closer with Elaine eventually winning 21-15.

In the final, Elaine took an early lead and on the 9th end was 8-2 up. Rebecca then took the next end and with excellent lead bowls and Elaine losing her length, commanded the rest of the game to take a well deserved 21-8 win. Presentation of trophy and prizes was made by Sue Gawne, President of the Ladies Association. Rebecca then thanked those who stayed to watch, Port Erin for hosting the competition, the Competition Committee for a well run event and all her opponents.
Special thanks were given to Mrs Ann Gale for sponsoring the championship and for her continuing support of this competition.