Jenny Moore Overcomes a Family Affair to Win Second Festival Title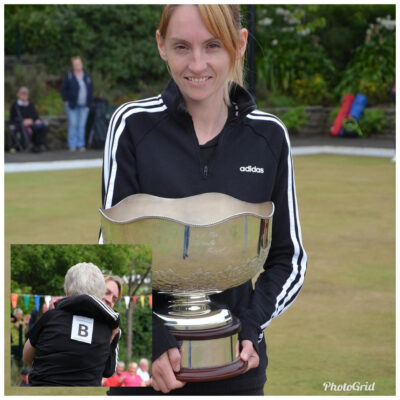 In the Ladies main event it was a family affair as South Ramsey's Jenny Moore took on her mother Elaine Moore. With both having one Festival title to their name, it was a case of who would have the family bragging rights with one going ahead of the other. Jenny's previous win was in June 2016, whilst Elaine's win was more recent in September 2018.
It proved to be Jenny's day as none of her opponents could get near her, with Jenny following up on her recent achievement when she won the British Senior Merit as she came through a top field in Manchester to prove she is one of the games leading ladies.
With the green having changed pace in the two hours since they had been on the green for the semi-finals Jenny crucially won the toss and played a round peg mark off the edge of the crowd winning the first eight ends to punish Elaine to full effect as she scored four doubles to take an almost unassailable 17-5 lead. Jenny performed brilliantly leading well and even when Elaine did count with her first bowl Jenny would respond to beat her mother's bowl.
When Elaine did get in there was an ironic cheer, with Elaine heading for the corners it could have been game on if Elaine could win a few consecutive ends to plant a seed of doubt in her daughters' mind, however Jenny only lost two further ends to win 21-8 and won in style with an excellent second bowl which Elaine just failed to beat. At the end mother and daughter embraced, whilst Elaine would no doubt be disappointed she would also have been a proud mother. The pair have met on finals day before in 2018 with Elaine having come through against Jenny 21-20 at the semi-final stage, with Elaine then going on to win the final against Gill Simm.
In addition to taking her first September win, and second festival win overall along with the winners cheque for £1,000 Jenny received the Blanche Kaye Trophy for the furthest Manx Lady, while Elaine took the runners up prize for £600.
In the semi-finals Jenny booked her place in the final with a comfortable 21-11 win over team mate Lyn Bolton (South Ramsey), whilst Mother Elaine had a fight on her hands to reach the final as she trailed 7-14, then 13-17 against Sharon Gadd (Cononley) to win six of the last eight ends finishing with two doubles to take her place in the final with a 21-19 win.
Jenny started her day with a 21-11 win over Paula Firth (Onchan), Bolton had a tough game against Helen Withers (Marown) with the latter making her first appearance in the Festival as she progressed with a 21-17 win. In the bottom half of the draw Elaine seen off local Janet Monk (Mooragh Park) 21-12, while Gadd made sure of her place in the next round with a 21-18 win over Louise Cotton (Wrockwardine Wood).
The Ladies Tourism was played down to the winner on Thursday morning on Noble's 2 green it was Angela Gaut (Wrockwardine Wood) who had a successful week taking a 21-17 victory over Louise Cotton (Wrockwardine Wood) in the final.
Gaut booked her placed in the final with a solid 21-12 win over Tracy Wraight (Windermere BC), whilst Cotton ended the challenge of Sarah Weaver (Wrockwardine Wood) with a 21-15 win.
In the quarter finals Gaut progressed with a 21-18 win over Kaye Coulthard (Cradley Sports & Social), Wraight beat Sharon Gadd (Cononley) 21-19. In the other half of the draw Cotton beat Rebecca Teare (Marown) 21-6, while Weaver ended the challenge of Philippa Taylor (Marown) with a 21-18 win.