Callum Gets it Wraight to win First IOM Festival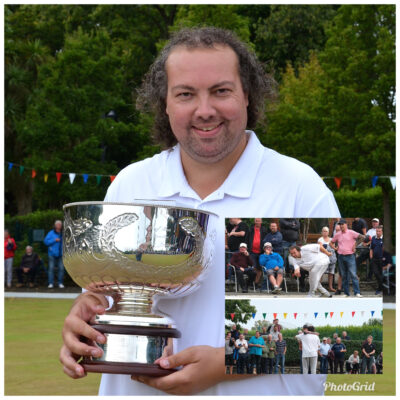 The long awaited return of the Isle of Man September Bowls Festival took place last week, with a lot having happened over the two years that have passed, it was great to meet up with old friends and new, whilst also remembering those that are no longer with us. The Festival is now in its 100th year having first been played for in 1921.
In the Men's event it was Callum Wraight (Castlefields) who picked up his first ever Festival win, having previously lost in the June 2016 final to Kez Smith (Crossgates). Wraight made no mistake this time round as he took the winners cheque for £3,000 as he finally got his hands on the famous trophy. Wraight had to overcome the challenge of another regular visitor, a two-time winner from 2005 and 2007 Paul Bailey (Thongsbridge).
The final started with Wraight taking seven of the first eight ends to build a 14-6 lead playing his customary short length. Bailey responded with two doubles only to concede a two himself, then scored a single as he sprung the jack to his back bowl to sit 11-16 behind. A double and a single got Bailey to within four chalks at 14-18. Wraight took two of the next three ends to take a 20-15 lead, only for Bailey to play another great running bowl to trail the jack through for two to set up a tense ending to the game with the score at 17-20.
Bailey left his first bowl 18 inches from the jack, which Wraight didn't beat with his first. With the former just failing to improve with his second Wraight shrugged off any hint of pressure and changed his peg, stalking his last bowl to tap the jack to claim a magnificent win letting out a roar of sheer delight and throwing the mat up in the air in front of a good crowd who gave a brilliant round of applause in appreciation of a great final with Bailey hanging in throughout against a formidable opponent. Bailey could take consolation in the runners up cheque for £1,000.
Wraight reached the final courtesy of a nervy 21-20 win over Danny Barwise (Birchley St Mary's), with the former recovering from a 14-18 deficit to lead for the first time in the game at 20-18. On the following end Wraight pushed his jack to the edge only for his first bowl to fly off the green, with Barwise not punishing this Callum watched his second bowl just trickle off the green to allow Danny to carry up his second bowl and tie the score at 20-20. On the deciding end the counting bowl changed with each bowl sent and it was Wraight who played a great last bowl under tremendous pressure to take his place in the final.
In the other semi-final the local player who had progressed the furthest and received the Chris Quayle Memorial trophy for the furthest Manx Man was David Bradford (South Ramsey) who was playing superbly to go into a 14-8 lead against Paul Bailey and was counting for one and upon trying to make two Bradford went into the back of his opponents bowl to allow Bailey a free shot to take out the counting bowl, which he duly did in a huge turning point in the game to count for two, then scored another double followed by a single to pull the score back to 13-14. From there Bailey took eight of the next 11 ends scoring singles to see the game out 21-18 in another excellent game for the spectators.
The quarter finals were all fairly comfortable for the winners with Bradford ending the hopes of previous winner Ian Nicholson (Hale) with a 21-13 win, Paul Bailey seen off Callum Briddon (Fairfield) with a 21-15 victory. In the bottom half of the draw Wraight also won 21-15 against Anthony Rukin (Hopwood), whilst Danny Barwise progressed to the semi-finals courtesy of his 21-12 win over 2008 winner Colin Kelly (Marown).
Men's Tourism
The Men's Tourism was played down to the winner on Thursday morning on Noble's 1, and it was John Bailey (Castlefields) who performed well to see off Jack Dyson (Thongsbridge) to take the Tourism title with a 21-16 victory, with Bailey recovering from an 8-14 deficit to take nine of the last 10 ends.
Both semi-finals were well contested with Bailey edging home 21-18 against Chris Bly (Hopwood). Dyson booked his place in the final with a hard fought 21-17 win over Callum Wraight (Castlefields).
In the quarter finals Bly progressed with a 21-19 win over Mike Tunstall (Cradley Sports & Social), Bailey won 21-12 against Ben Phillips (Lloyd Hotel) with Wraight winning to the same score against Dave Allsop (Marehay), while Dyson beat James Fitzpatrick (West Kirby Victoria) with a 21-11 win to progress to the next round.
Other Events
The Men's consolation was won by Dave McDermott (Tixall) who beat Andy Sorsby (Thongsbridge) 21-14. The Ladies consolation was won by local Lynda Cadamy (Marown) defeating Jane Glaister(Windermere) 21-17.
The Visit.Com Flyer title also went to Callum Wraight (Castlefields) who had a 9-2 win over Debbie Davis (Pudsey BC), whilst the Last Chance Mixed Final was won by Robert Whyatt (Packhorse) who beat Kevin Nicholas (Gresford Colliery) 21-17 in another close final.
In the doubles competitions the open doubles were won by Conor Chamberlain (Stretton Anglesey) and Brad Bayliss (Castlefields) with a 11-8 win over Ross Meese (Meersbrook BC) and Katie Morgan (Maltby BC).
The Men's doubles were won by father and son pairing Dave and Ben Phillips (Lloyd Hotel) who went one better than September 2019 as they beat Neil Rigden (New Longton) and Steve McCall (Kirkham) 11-7 in the final.
The Ladies pairs was won by Jane Glaister (Windermere) and Gill Simm (Lune Road) defeating Onchan pair Paula Firth and Jo Smith 11-5 in the final.
The Mixed pairs was won by Paul Kissock (Lindal BC) and Grace Hubbert (Stalmine) with Hubbert retaining the title she won in 2019 with Andy Mailer, as Kissock and Hubbert won 9-5 against Mark Hinchcliffe (Penwortham) and Elizabeth Bennett (Penwortham Sports).
The presentation of the prizes was made by former CEO of the British Crown Green Bowling Association John Crowther. Upon accepting the trophy and the winners cheque for £3,000 Callum thanked the organisers for all their hard work, then went on to commiserate his opponent who is a good friend who he has the upmost respect for and that the win meant everything to him. Callum also said it was great to have his Grandmother, Mother and Stepdad Richie there to see him win it.
The 34-year-old Shropshire man has been coming to the Island on a regular basis for 17 years, since the age of 17, having suffered more heartache than most reaching six semi-finals and losing out in the final five years ago. I recall a conversation Callum had with a local bowler two or three years ago when he said that while he had won everything there was to win in the U.K. the Isle of Man Festival was the one that he wanted to win.
His mother Tracy could not have been prouder, with Callum's dedication to play bowls to the best of his ability shining through every time he steps on the green. Callum is a highly respected bowler and person on and off the green, with this having been instilled in him at a young age.
Wraight has won all of the games biggest prizes, was the bookies favourite before a bowl had even been sent and no doubt his next challenge will be to get his name on the June trophy to become one of a select few to win both the June and September Festivals.