UK Merit Qualifier – Crown Green Masters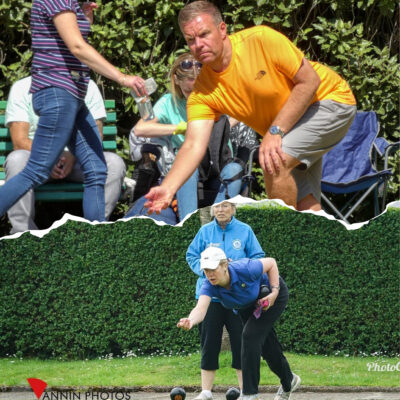 The Isle of Man Crown Green Bowling Association put two entries forward for a Crown Green Masters Competition to be held at Euston Green in Fleetwood. It was decided to hold a 21 up off scractch qualifier for the two entries, with 27 entering for their chance to qualify.
Going out the last 16 stage in well contested matches were Neil Withers 19-21 to Marown club mate Karl Parker, Peter Greenlees (Peel) lost out 17-21 to Clare Cooper (Marown), Glenn Boland who battled hard before losing out to fellow Marown man Paul Dunn 19-21, while Gary Conwell (Douglas) was beaten 18-21 by Debbie Leece (Marown).
At the quarter final stage Alan Moore performed well to beat South Ramsey club mate Glynn Hargraves 21-17, Clare cooper edged home 21-20 against Karl Parker, Paul Dunn performed well to see off Tommy McMeiken (Peel) 21-10, a result matched by Debbie Leece who beat Dave Naughton (Noble's).
In the qualifying game Cooper was up against Moore, with the latter racing into a 13-8, only for Cooper to go on a good run to win 21-14 to qualify.
In the other half of the draw Dunn was always in control against Leece, won 21-9 to also qualify for the finals day.
Both Cooper and Dunn will now go on to play in the finals to be played on Friday 23rd September with a prize pot of £3,600 up for grabs. Good luck to both players.