Top Teams Dominate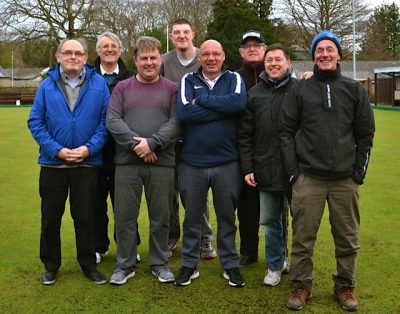 The league table is getting a familiar look about it following the second set of fixtures played on Monday evening, with what most bowlers consider to be the top two teams Marown and South Ramsey both winning 10-0 with the opposing teams failing to reach the 100 point mark.
Marown stormed to a convincing home win against Port Erin (pictured), who having sat out the first round of fixtures last week were unable to capitalise against a Marown team who were missing a couple of regulars.
South Ramsey A got over the disappointment of two dropped points last week with a convincing win at Ballaugh.
Onchan were a solitary point away from a maximum, with Jimmy Samson being the only winner for Douglas B over Jordan Cain.
Port St Mary got their first full house of the season with a 10-0 victory over North Ramsey who almost picked up a point, with Gary Merrill just losing out 20-21.
Castletown continued their confident start to the season with an assured 9-1 result over their B Team with Dave Faragher the lone winner for the B Team.
All eyes were on newly promoted Peel with three players coming up against the Douglas team they played for last season. This did not stop their season from getting up and running with a 7-3 victory over the visiting Villa side with Keith Rise holding off the challenge of former team mate Dave 'Barney' Kelly with an assured 21-16 win on a green that Barney is notoriously tough to beat on.
In the second division Marown B are proving their title credentials having now played both teams relegated from the first division last season, this week winning 8-2 over the visitors Noble's A.
It is not looking so good for Finch Hill A, who suffered their second straight 9-1 loss of the season, this time to Onchan B.
Port St Mary C lost 5-3 on games to Peel B, but just edged the aggregate by a solitary chalk to obtain a draw overall.
Onchan C were unable to hold off the strong challenge of Port St Mary B who came away from the Park with an 8-2 victory.
Newly promoted Port Erin B will have been pleased to have taken the spoils from a Douglas C Team that got promoted with them last season, with an 8-2 win having edged the aggregate by two chalks. The home team were unfortunate to not get over the line in two or three of the games.
In the third division Marown C visited a much improved Ballaugh green, but were unable to get to grips with it on the night, with the home team winning 8-2.
South Ramsey D played their first home fixture of the season, with the result being 4-4 on games and the visitors Ballaugh B taking the overall victory 6-4.
South Ramsey C visited Noble's C, with the visitors taking a comfortable 7-3 win.
Castletown C were convincing 9-1 winners over the newly formed Douglas D Team, who for many of their players would have had their first experience of playing on an away green. I am sure this season will give the team a number of ups and downs.
Upcoming Opens
Sat April 23 – Douglas – Association Singles
Announcement
Sun April 23 – Peel Sunset will now hold a Mixed Doubles Competition The Lancaster Cup.  This competition replaces the South Ramsey Team 4s competition which has been moved to September due to the extensive work being carried out on the new club house & surrounds.