Teare & Dunn Win PSM Cup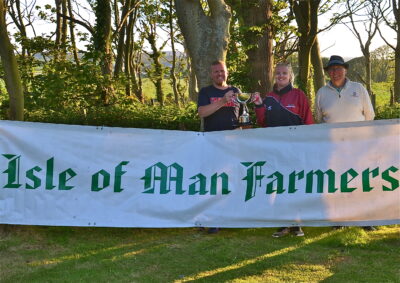 39 pairs competed for the Port St Mary Cup mixed doubles on Bank Holiday Monday. Another day of good weather made the day very enjoyable. The green was running very fast, making it very tricky to get close to the jack.
At the quarter final stage Lyn Bolton (South Ramsey) and Trevor Quayle (Port St Mary) beat Elaine Moore and Glynn Hargraves (South Ramsey) 21-14. Home greeners Chris Price and Wayne Roberts beat Fiona Kennish and Steven Waters (South Ramsey) 21-15. Rebecca Teare and Paul Dunn (Marown) beat Jenny Moore and James Teare (South Ramsey) 21-20, whilst Kim Hargraves and Stefan Kelly (South Ramsey) beat Lorna Brady-Glover and Ray Maddrell (Port St Mary) 21-11.
First of the semi-finals saw the reigning champions from 2019, Bolton and Quayle take on Price and Roberts, a close match all the way to the end with the latter winning 21-19. In the second semi-final Teare and Dunn took on Hargraves and Kelly, as always at this stage another tough match, but Teare and Dunn won 21-14.
In the final Teare and Dunn stepped up a gear and were always in control eventually winning 21-11.
The presentation was made by club president Pete Collins, who thanked the sponsors Isle of Man Farmers, and everyone at the club that helped make the competition a success.