South Ramsey Retain Division One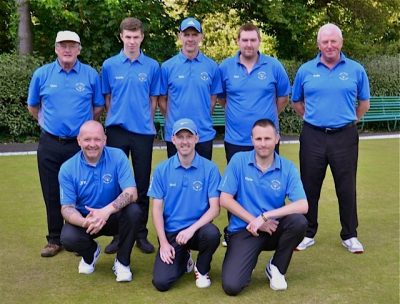 South Ramsey A retained the Division One title by beating Port St Mary A 6-4. South have been a dominant force all season and fully deserve to win back to back trophies and will look forward to competing in the 2018 World Club Challenge and going for a hattrick of wins next season.
Marown A pushed hard in the second half of the season to chase down South Ramsey but despite their best efforts settle for second place finishing eight points behind the champions.
Onchan A had already guaranteed third position but Douglas A, Port St Mary A and Peel Sunset A were all fighting for fourth position.
Peel slipped to a 8-2 defeat away to Onchan A leaving them to finish sixth. Douglas A picked up a 8-2 win over North Ramsey A but crucially Port St Mary A picked up four points in their defeat at South Ramsey A pipping Douglas by a single point to claim fourth position.
Castletown B finish bottom following their 8-2 loss at Marown A but Ballaugh A, Douglas B or Port Erin A could still finish in the bottom two. Douglas B sat out Wednesday having already completed all their matches so were sweating on the results from their relegation rivals.
Port Erin A who with only a few games to go were rock bottom found good form in their final few matches finishing the season off by defeating South Ramsey B 7-3 and keeping them in the top flight.
That left Ballaugh A, they went to Castletown A knowing they needed three points to jump Douglas B and save their season. On the night they lost two games 21-18 and another 21-17 and could only manage two wins losing 8-2 on the night and leaving them with Castletown B at the bottom.
Colin Kelly collected the division one merit on the final day of the season with David Bradford finishing second and Trevor Quayle third.
Marown B had already confirmed themselves as Champions and finished the season with a 5-5 draw at Peel Sunset B. Onchan B finished seven points behind the men from Crosby with Nobles B third and a further 20 points back.
Nobles B have enjoyed much success this season incredibly finishing nine points ahead of their A team. In their final matches Nobles B went down 7-3 away to Port St Mary B and Nobles A defeated Port Erin B 9-1.
Douglas C finish bottom along with Onchan C.
The division two merit came right down to the wire and Steve Crampton finished top of the shop signing his season off with a 21-9 victory. Kerry 'Bod' Boland finished second.
Division three had a great finale with Ballaugh C leading the division by two points ahead of Peel Sunset C. With both teams having one hand on the trophy the fixture list happened to throw them together on the last night of the season.
Ballaugh travelled to Sunset City and the match was close, only separated by eight chalks but it was Peel who won 7-3 and took the third division trophy.
The division three merit was also just as close, Dave Smith led the way but three other people were waiting to pounce should he have lost. Away at Ballaugh B Dave won 21-7 and collected the merit in only his second season of league bowls.
So the curtain has fallen on another fantastic season of league bowls. We thank our Sponsors Ellan Vannin Fuels for their continued support along with all the people behind the scenes that help with the running of the league.