South Ramsey Hit Top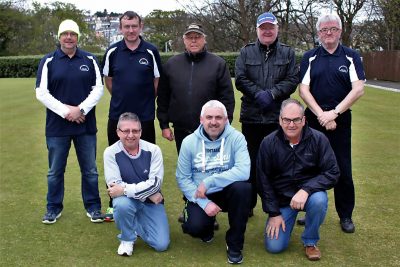 The Men played two set of fixtures last week, with the cold and windy conditions on Monday night being particularly challenging for all teams playing.
South Ramsey A started their week with a good 9-1 away win away to Castletown B, with Ross Moore being the sole winner for the home team, managing to take a 21-19 victory over Chas Grills, whilst on Wednesday South Ramsey brushed aside the visitors Douglas B to win 10-0, with the visitors averaging less than seven chalks each. These results now see South Ramsey with a six point lead over Douglas A, however both Marown & Onchan both have a game in hand to potentially close the gap and move up the table.
Marown A started their week with a visit north to take on South Ramsey B, taking a good 9-1 victory back to Crosby with both teams sneaking 21-20 wins. Marown then visited Onchan Park to take on Onchan A, who had sat out Monday night's fixtures, but that didn't stop them showing their title credentials to secure a 6-4 win over the visitors.
Douglas A (pictured) will have been pleased with their week, dropping only two points with a 9-1 over their B Team, matching this result on Wednesday over the visitors Port Erin A.
Castletown A continued their winning start to the season coming away with a 3-7 win away to Port Erin A on Monday evening.
Peel continue to consolidate their top flight status with a 6-4 win over visitors Port St Mary A, will have been pleased to come away from Mooragh Park with a 7-3 victory on Wednesday.
North Ramsey A fared better on Monday night taking a 7-3 victory way to Ballaugh A.
Castletown B ended their week with a visit to Port St Mary A, but only managed to take two points off the home team who won 8-2.
The bottom four teams Ballaugh A, Castletown B, Port Erin A and Douglas B look like they could be in a four way fight to stay in the top flight.
In the second division Marown B are starting to open up a gap at the top having won two home games, taking a 9-1 & 8-2 victory over Douglas C & Nobles B respectively.
Not far behind Marown are Peel B who made up for losing 4-6 away to North Ramsey B, by winning 10-0 at home to Onchan C.
Nobles B find themselves in the unusual position of being ahead of their A Team having picked up three points more than their club mates so far.
Finch Hill A are getting their season back on track with two victories this week to start to pull away from the bottom.
Douglas C are finding the second division much tougher this season, rooted to the bottom of the league, but with time to pull clear.
In the third division Peel C and Marown C continued their promising start to the season with both team securing good wins to extend the gap over the teams below them.
Castletown C started their week with a 10-0 win over visitors Ballaugh B. Their week didn't end so well with a visit to Ballaugh to take on their C Team with the home team taking a 7-3 win.
Finch Hill B are at the bottom of the pile suffering a 1-9 home loss to Marown C. Thursday didn't go any better with another 9-1 loss making it a long journey home.
Peel D secured a good 8-2 home win over South Ramsey C, following this up with a visit to Nobles C to come away with a 6-4 victory.