South Ramsey A Edge Closer To Title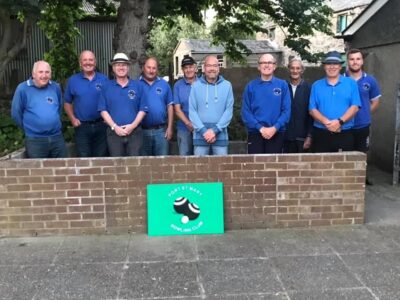 In Ellan Vannin Fuels Division One the match of the week, was for a second successive week at Crosby between Marown A and South Ramsey A, with the visitors arriving in the knowledge they had already beaten Marown on their own green this season, that the home team would be looking for revenge and to close the nine-point gap between the teams at the start of play.
First off the green was Neil Withers with a resounding 21-11 win over Tony Dugdale, who was standing in for Dave 'Dido' Kelly. The visitors responded with David Bradford taking out one of Marown's big hitters as he continued his good form to beat Paul Dunn 21-10. The next game off was the shock of the night as Stefan Kelly carried his Rayner Shield Final form into his game as he found an edge to play along on the park side of the green to go into a 15-8 lead against seven time Manx Champion Colin Kelly, who got in and looked to get into his trademark corners as he scored three quick-fire doubles and a single to level things up at 15-15. Stefan got back in at the perfect time and headed straight for the edge that had served him well all game to run out with a convincing 21-15 win. The last game in the first half was between Phil Kelly and Peter Collister with the latter recovering from an 8-14 deficit to go 17-14 ahead and then led 20-18 only for Kelly to muster all of his experience to respond with three singles to win 21-20 and leave the match finely poised at 2-2 at the half way stage.
The second half got underway with the excellent floodlights coming into play, it was Dean Kipling who was next off with a 21-8 win over Alan Moore as the former trailed 7-8 to go on a 14 point scoring streak to run out on his opponent playing an edge of the green. Next off was South Ramsey captain Glynn Hargraves who beat Matthew Keggen 21-11. Chas Grills for the second week running pulled off another great result as he beat Paul Kelly 21-18, with the latter having played the same opponent in the Rayner Shield semi-final and winning 21-5 this was a remarkable turnaround from Grills. The last game off sealed a 4-4 win on games for Marown with John Gelling recovering from a 1-9 deficit and still trailed at 8-14 to kick up a few gears to see the game out with a 21-16 win over James Teare.
The chalks could not have been closer between the teams as South Ramsey edged the aggregate by a solitary chalk (138-139) to win 4-6. The teams have been well matched in head to heads in the league this season, as whilst Marown won 7-3 at South Ramsey earlier this season they also took the aggregate by a solitary chalk. The result extends the northern men's lead to 11 points over Marown A with four games to play.
Peel A bounced back from their two defeats the previous week to beat Douglas A 7-3 at home as they stayed in contention with an all-important home fixture to come against South Ramsey A. The home team may yet see this as an opportunity missed as they had two losers to 20-21 with Shaun Seal impressing with his win over Andy Kennish having recovered from a 11-20 deficit, while Kevin Firth also inflicted a rare home defeat on Tommy McMeiken. Ian Moore was the other winner for the Villa men as he beat Tom Kelly 21-14. All the home team wins were comfortable for Peel with George Gadsby leading the way with a 21-6 win over Keith Rise, while Dave 'Barney' Kelly beat Andy Cannell 21-12 with the latter tasting defeat for only the second time this season.
Castletown A were missing a couple of regulars, despite this they managed a good 9-1 home win against Ballaugh A who are in danger of being cut adrift as they sit nine points from safety.
North Ramsey A are pretty much assured of their first division status for next year following their 7-3 home win over Peel B, with the visitors edging further towards safety as they attempt to retain their top flight status for another season having just come up to Division One.
Noble's A who are all but mathematically relegated will not have been disheartened by their 4-6 loss at home to Port St Mary A as they lost out on the aggregate by just four chalks (142-146), they will look to find their level in Division Two next year as the club looks to rebuild after a tough year. The positive attitude and efforts from the club members this season has been exemplary.
Onchan A just missed out on a whitewash as they won 9-1 at home to Marown B with Peter Kelly 'spoiling' the party as he won 21-19 against Frank Watson.
In Division Two South Ramsey B were quite possibly the biggest winners this week without even playing as the teams around them all dropped points.
Port Erin A went top by a point as they hit 101 points for the season, but may feel this was an opportunity missed as they lost 7-3 away to Finch Hill A who are eight points further back on the Breagle Glen men in fifth place. The Finch men may be a bit too far back to make a long awaited return to Division One with only four games remaining.
Marown C took four vital points off third placed Onchan B, as they were defeated 4-6 at home with the visitors on 99 points, the Onchan men are well placed to return to Division One for the first time since the 'noughties'.
Castletown B are a bit further back on 94 points, they suffered a mini disaster as they lost 6-4 away to Douglas B, losing out on the aggregate by just two chalks (132-130), while Peel C won 8-2 at home against South Ramsey C.
With the club in its 100th year Port St Mary B played their last ever home match on their current green and they signed off with a 10-0 home over Finch Hill B, with the club now looking to the future with some positive news hopefully to come shortly, with work having already started on clearing the site (see picture). Also pictured is Louis Callister (3rd from right) the clubs oldest member, who has been around for 93 years of the clubs 100 year existence.
In Division Three Onchan C stayed in top spot on 114 points despite suffering a second straight 7-3 away from home to Douglas C.
Ballaugh B won 7-3 at home to Marown D, the home team sit in second place behind Onchan with a game in hand and more importantly with a 14-point lead over third placed Ballaugh C who have played a game more, it should merely be a formality for both teams to be promoted barring a mini disaster.
Elsewhere in Division Three South Ramsey D enjoyed a good week with an 8-2 home win over Douglas C, Castletown C beat Ballaugh C 7-3 at the Crofts, while Port Erin B won 6-4 at home to Peel D.