South Ramsey A Retain Rayner Shield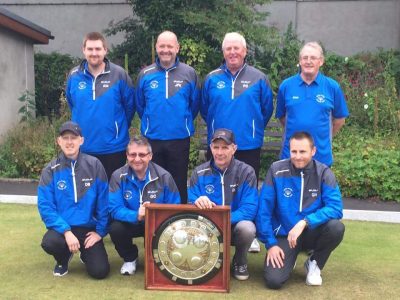 South Ramsey A successfully defended their Rayner Shield title with a 5-3 win over Douglas A at Castletown.
South Ramsey were always favourites to win but the draw gave the team from the Villa Marina an outside chance of causing an upset.
Douglas had to win big in the first half and realistically needed to win three of the first four games to stand a chance of overall victory.
South started strongest and at one stage it looked as if they may win all four games on the green however Douglas dug deep and the tide swung with Douglas looking like they may register their own clean sweep.
Bob Clark picked up the first win for Douglas beating David Bradford 21-17 after a really high quality entertaining match. South captain Alan Moore levelled things for his side with a superb 21-17 win over Island Captain Dave Barney Kelly. Paul Kelly put Douglas back in front as he defeated Chas Grills 21-14. Things ended all level after four games thanks to a magnificent performance from Gary Conwell who turned back the clock to put in a performance of old as he saw off the challenge of Ian Moore 21-17.
As expected South were too strong for Douglas in the second half and it wasn't long before they had two more wins in the bag with Glynn Hargraves and John Kennish turning on the style to pick up 21-5 wins over Mark Kneen and Stuart Garret respectively. Despite battling hard Stevie Kelly was unable to hold off Peter Collister who sealed the win for his side with a 21-15 win. Keith Rise battled hard though and restored some pride for his side fighting back to beat Dave Dido Kelly 21-19.
South Ramsey well deserved their win and if they continue to put in performances like this they will almost certainly win their first ever division one title this year.