Port St Mary A Do The Double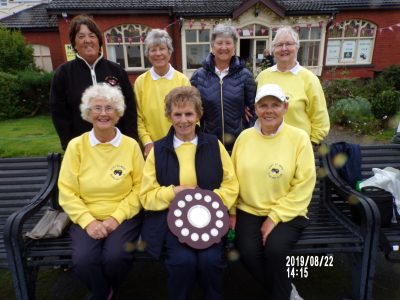 The final of the ladies' over 60's JMS team handicap took place at Finch Hill on Thursday 22 August. The wet weather early in the morning put doubt on its going ahead, but the organisers took a gamble and the weather improved a little as the morning progressed. To quote one of the players "We have played in a lot worse!"
Port St Mary A, who had narrowly clinched the league title on Tuesday, beating Peel Sunset by two points, were taking on Port Erin A who started with a 15 point advantage. The games were played as drawn with teams taking alternate jacks.
The first game on saw Tricia Bull, for PSM A, race to a 20-2 lead against Carol Kaye who then got the jack and managed to claw back another 7 points before losing 21-9.
Mavis Franks and Voirrey Curphey, for Port Erin, were evenly matched for sixteen ends, Mavis just leading 12-11 at that point, before a period of dominance gave her a 20-13 lead. Voirrey fought back well, eventually going down 21-17.
The game of the morning saw Port Erin's captain, Jacqui Elliott, drawn against Margaret Tasker. Early exchanges saw the players level at 9-9 after fourteen ends, before Margaret with a single and three 2's in the next five ends took a 15-10 advantage. Jacqui won the next six ends to edge ahead 17-15. The next three ends took her to 20 -17, before two 2's gave Margaret the game 21-20.
The match at the halfway point could not have been much closer; taking the handicap into account the score was Port Erin A 61, Port St Mary A 63, leaving all to play for in the last three games.
Val Macfarlane was in imperious form against Port Erin's Jenny Cain, reaching 9-0 before Jenny had time to blink. Jenny dug in to take the next five ends, 6-9, but only managed another 2 points before Val came through 21-8.
Game 5 was "nip and tuck" for the first nineteen ends, when Port Erin A, in the form of Joyce Ogden, just led Wendy Kennaugh 12-11. With the bit between her teeth Joyce then dropped just two more points, taking the game 21-13, to record Port Erin A's only win.
The final game promised to be a good one as Ann Maddrell (PSM A) faced up to Lynda Cadamy. The game lived up to its billing. Initially Ann had the advantage, leading 12-6 after fourteen ends, before the next four ends saw the score level at 12-12. The two players then stayed with each other up to 17-17, before Ann took the next three ends, and the game, 21-17.
The final score : Port St Mary A 118, Port Erin A 107 saw a win for Port St Mary A by just eleven points.
Congratulations go to Port St Mary A, on the week they won "The Double", and also to Port Erin A for their contribution to a close final this morning.
The presentation was made by Janet Latham who thanked Finch Hill for the use of their green, the ladies who had contributed to the refreshments, the men for measuring and everyone who had turned up to watch.