Onchan Step Up Their Challenge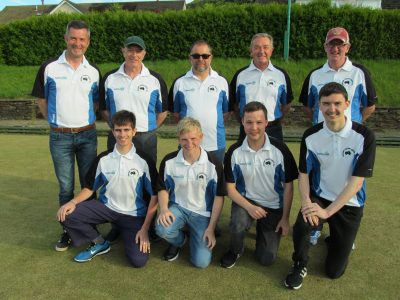 Onchan showed last week how they are ready to mount a serious on the two sides above them in men's crown green bowling league. In week 13 of the Ellan Vannin Fuels-sponsored league, they turned out a very strong team at Castletown B on Monday night when they came away with a 10-0 victory. In doing so they closed the gap on the leading two Division One sides by a single point.
The whitewash included an impressive 21-3 win for Mike Thomas and identical 21-9 score lines for Robert Monk, Jordan Cain and Matthew Quirk.
The problem for the chasing teams is that reigning champions South Ramsey A don't look like they are about give any ground away to the teams below them. Last week they took on local rivals North Ramsey A at the Mooragh and handed out a clinical 9-1 beating, Steve Walmsey won 21-13 for the North but that was there only joy of the night as they were firmly put in their place.
Second placed team Marown A took on Douglas B at the Villa and ended the night with nine points which included impressive 21-3 and 21-4 wins for Bob Clarke and Paul Dunn respectively.
Peel A were held 5-5 by Castletown A over in the Sunset City, a good result for the visitors but the home side were left feeling they should have done better after losing ground on the teams above them.
South Ramsey B entertained Port St Mary A but could only manage two winners on the night as the away side powered to an 8-2 win with Trevor Quayle maintaining his unbeaten run. Ballaugh A were at home to Douglas A with the Villa men having much the better of the evening with a solid 8-2 win .
In Division Two league leaders Onchan B were at home to Peel B and ended the night with 7-3 win, but second placed Marown B had an impressive 9-1 win over Finch Hill A closing the gap to One point on the leaders.
Noble's B in third place looking to close in on the top two teams had a 8-2 home win over Port Erin B to keep up their challenge. In the remaining games Post St Mary C had a good 8-2 win over Onchan C, Port St Mary B defeated North Ramsey B 7-3 at the Mooragh.
Lying at the bottom of Division Two Douglas C suffered a crushing 10-0 home defeat at the hands of Noble's A which sets them three points adrift at the foot of the table.
Division Three fixtures saw Peel D take on Peel C in what turned out to be a well supported and fiercely competitive game, it resulted in 5-5 draw with Peel D down 3-5 on games but winning the aggregate but the five points keep Peel C level with Ballaugh C at the top of the table. At the wrong end of the table Finch Hill B and Douglas D both suffered heavy defeats.