Onchan Close Gap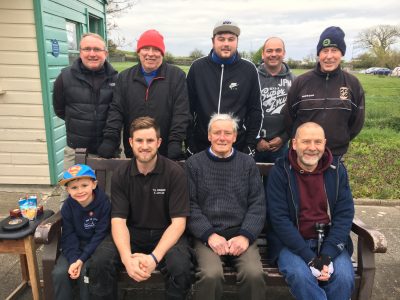 In the first division Onchan A closed the gap on rivals South Ramsey A by a point, following their visit to South Ramsey to take on the B Team, coming away with a convincing 10-0 win, with three of the home players running the visitors close before losing 17, 18 & 19 respectively. Onchan & Marown will both be hoping to close the gap further with South Ramsey sitting out the next round of fixtures.
Castletown A made the trip to Crosby, with their winning start to the season coming to an end, losing out 7-3 to Marown A, however they will have been pleased to have taken three points from a green that they have struggled to get much out of over the years. Bob Clark did all he could to get the extra point for the home team, going 20-19 up on Castletown's Mike Hargraves, with Clark lying one for game, Hargraves then played Clark out to make two, in doing so taking the victory 21-20, to gain an extra point for the visitors.
South Ramsey A maintained their position at the top of the table, with what looked like a convincing 9-1 win away to Port Erin A, the reality was anything but that, with the home team considering themselves unlucky to be 4-0 down after the first four blocks, as it could quite easily have been 3-1 or 4-0 the other way. David Bradford notably coming back from 20-13 down to run out on Peter Addison. The lone winner for the home team Bernie Durcan dug in to come back from 16-4 down to win 21-18 against Peter Collister, in doing so picking up an all important point for his team.
North Ramsey A made the trip down South to take on Castletown B, managing to come away with a 6-4 victory, losing out 19-21 and 20-21 to miss out on taking another two points off the home team.
Douglas B hosted Port St Mary A, with the visitors coming away from the Villa with a good 8-2 win.
Ballaugh A made the short journey down the West Coast to take on Peel A, with the home team winning 8-2. For the visitors Barry McDonald & John 'Shirt' Keenan lost out 18-21 & 19-21 respectively.
In Division two Onchan B put the brakes on Marown B in their quest for promotion to the top flight, using their home advantage to win 7-3, in doing now sit on top of the table one point ahead of the Crosby outfit.
Noble's B now sit in fourth place in the table, winning 7-3 against Peel B, thanks to getting the two bonus points for the aggregate, winning by two chalks overall. Peel B, who are on the same points, but with a better 'games for' managed to stay above Noble's B.
Noble's A visited the Mooragh to take on North Ramsey B, coming away with a 6-4 win.
Port Erin B made the short trip to take on Port St Mary B, but it wasn't their night losing out 9-1 to a strong home team.
Finch Hill A continued their return to winning ways, taking home a 6-4 victory following their visit to Onchan C.
Port St Mary C (pictured) cruised to a 9-1 win over Douglas C, with Tommy Rougvie being the only winner for the visitors.
In division three South Ramsey D took on their C team, with the D Team giving a good account of themselves, taking four games off their higher ranked club mates.
Douglas D hosted Marown C, with both teams having a number of new bowlers taking each other on. The Crosby men's extra years experience being the difference and giving hope to the Villa men that they could make similar progress themselves next season.
Peel C suffered a setback in their challenge for promotion following their visit South to take on Castletown C, with the home team managing to take a 6-4 victory despite having to give a game away.
Ballaugh C had a 7-3 away win over Peel D, whilst Noble's C just got over the line to win 5-4 away to Finch Hill B.