Marown Win Record Equalling Rayner Shield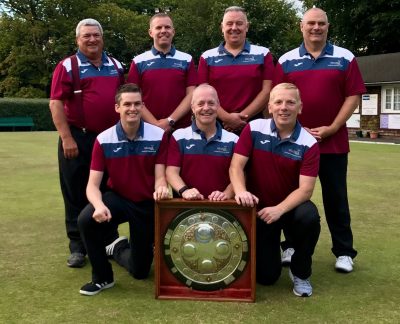 The Canada Life International Rayner Shield final was held at Douglas Bowling Club on Friday evening, between South Ramsey A and Marown A in a match which was billed as 'Thriller at the Villa', with the current top two teams on the Island going head to head it certainly lived up to its billing. The green was in superb condition, especially considering the weather we have had this week.
First off the green for South Ramsey was John Kennish, who stormed to a 21-6 win over Dean Kipling with the score not really reflecting the game. Hitting straight back for Marown was Colin Kelly who had a resounding 21-5 win over Chas Grills. The third game off was David Bradford, who after being 14-5 up Ian Kissack managed to pull the score back to 14-10 down, before Bradford seen the game out 21-10. Next off was Glynn Hargraves who defeated Matthew Keggen 21-6 to give the Ramsey men a 3-1 lead at the half way point with a 25 advantage on chalks, it looked like the Shield would be heading North for a third consecutive year.
Marown had other ideas and hit back in the second half of the match, knowing unless they had a couple of big wins they would need to win the match 5-3 on games, as the chalks heavily favoured South Ramsey.
Fifth game off was Phil 'Rambo' Kelly v Alan Moore, who pulled out a superb bowl when 13-7 down with Moore lying two. From there Rambo came back from 17-12 and 19-14 down to see the game out 21-19 to give the Crosby men some hope. With the tension building around the green the next game off was John Gelling v Dido Kelly, with Gelling having a commanding 14-5 lead Kelly got himself back into the game with a good run to level the scores at 18-18, with Kelly lying two good bowls Gelling played a superb bowl to win the end and take a further two singles to win 21-18. In the penultimate game and one of three key games in the second half with the games being so finely balanced, it was Paul Dunn v Stefan Kelly, with Dunn behind all game at 13-7 and 17-13. With the score at 18-15 to Kelly, who had two bowls inside 18 inches Dunn played a superb bowl to win the end, and then finished the game on a longer length mark to see the game out with a vital 21-18 win. This left Marown needing only one more chalk to secure a great comeback and a famous victory with Neil Withers being 20-9 up over Peter Collister, Withers quickly took a 21-11 victory to secure the Rayner Shield for the Crosby men.
The presentation was made by Adrian Skinner on behalf of the competition committee, who thanked the sponsors for their continued support all those who helped and Douglas for preparing an excellent playing surface, he then introduced Marown captain Neil Withers, who offered his commiserations to South Ramsey and congratulated his team for their efforts on what was a great comeback.
Marown's win sees them draw level with outright leaders Onchan on 15 Shield victories.