Marown A Edge Closer – Peel B Go Top – South Ramsey C March On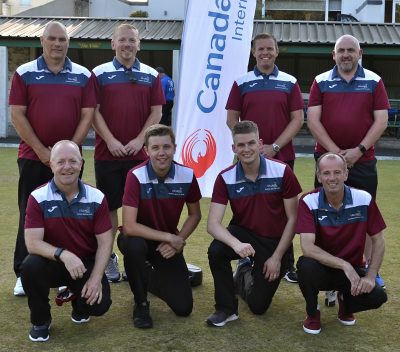 In Ellan Vannin Fuels division one champions elect Marown A bounced back from the disappointment of their Rayner Shield final loss with their 'away' fixture against their B team at Crosby with last year's 3-7 defeat fresh in their mind the A team were keen to put things right, doing just that with a 0-10 victory. Coming closest to picking up a win for the B team was Arnie Withers who just lost out 20-21 to Walter McCarthy who stepped up from the C team. Winning to single figures for the A team were Colin Kelly and Paul Dunn, beating Bobby Thorne and James Kelly respectively. The result leaves the A team 14 points ahead of second placed South Ramsey A with just six games left, whilst the B team are just seven points ahead of the bottom two teams South Ramsey B and Castletown B.
The bottom two sides South Ramsey B and Castletown B faced each other with the town men coming away from Ramsey with a 4-6 win to boost their hopes of staying up. Winning for the home team were Tony Dugdale, Edward Carlyle, Austin Hart and Christian Caley who has started to find some form picking up some good wins recently. Responding for the town men were Mike Hargraves, Ron Williams, Bob Clark and Nathan Cooil whose 21-8 victory helped his team edge the aggregate by six chalks (132-138).
Port St Mary A were the hosts for the visit of second placed South Ramsey A. The visitors recorded a good 2-8 win with Trevor Quayle in fine form to inflict a first league defeat of the season on Dido Kelly (21-17), whilst Wayne Roberts performed well to win 21-9 against Ian Moore. Hitting back for South Ramsey were David Bradford with a 21-6 win over Dan McCabe, whilst the remaining five winners for the visitors were all comfortable.
Noble's A are 12 points ahead of the bottom two after picking up four points at home to Onchan A losing 4-6. For the visitors Kevin Quirk and Mark Kelly both won 21-17 against Reginald Temporaza and Tommy Collister respectively, Matthew Quirk had a good 21-12 win over Glenn Boland, whilst Jordan Cain won 21-9 against David Quayle. For the home team Steve Hall and Steve Cook both got home by the tightest of margins 21-20 with good wins over Rob Monk and Phil Kerruish, David Pease won 21-16 against Neil Dunwell, whilst captain Kevin Firth had a superb 21-5 win over Steve Parker. Just six chalks separated the teams with Onchan edging the aggregate (139-145).
In the third 4-4 of the night Peel A hosted Douglas A, with the home team comfortably taking the chalks to round off a 6-4 win (150-124). Winning 21-13 for the Villa men were Ian Moore and Stuart Garrett, whilst they picked up two 21-20 wins from Merv Sayle and Jimmy Sansom against David Proctor and Alec Taylor. For Peel their wins were all comfortable from Tommy McMeiken, Andy Kennish, Alan Cromwell and Dave Kelly.
Castletown A hosted North Ramsey A at the Crofts with the home team taking a good 8-2 win. Sam Clague continues to impress in his first season in division one and just his third year since taking up the game with a 21-10 over Geoff Porter. Other winners for the younger generation were Jordan Drewett (21-9) over Steve Walmsley, whilst Dean Kinley won 21-20 against Bryan Corner. Of the more experienced bowlers for the home team the winners were Derek Lewney, George Peach and Peter Oates.
In division two Peel B have taken over at the top of the table from Ballaugh A, who recently visited Peel for a game brought forward and suffered a 0-10 defeat at the hands of the Peel men. Peel B had most of their good work undone with their 2-8 away defeat at the hands of third placed Port Erin A, who with a few big wins could be right up there in the mix.
With Ballaugh A looking to bounce back they suffered another setback with a 3-7 home loss to Marown C, with the Crosby men receiving a massive boost ahead of Friday's Rayner Plate final against first division side Port St Mary A. Ballaugh currently occupy second place, five points behind Peel B with a game in hand.
Finch Hill A are in fourth place, they recorded a good 2-8 away win over North Ramsey B at Mooragh Park. Douglas B will have been pleased with their 7-3 home win over Port St Mary B, Onchan B took a 6-4 home win over Ballaugh B whilst Port St Mary C took the spoils 7-3 at home to Peel C.
In division three South Ramsey C made it 15 wins from 15 games to maintain their 100% record with their crushing 9-1 home win over Port Erin B.
Second placed Finch Hill B took their turn to sit out the latest round of fixtures, which gave third placed Noble's B the opportunity to close the gap, they made the short visit to take on Onchan C at the Park, however the home team were too strong for the Noble's men with Onchan recording an 8-2 victory. The Finch Hill men now have a game in hand in addition to their four point lead.
South Ramsey D came away from the Villa with a good 2-8 win, Peel D eased to a 7-3 home win over Castletown C, whilst Nobles C matched this with their win over Ballaugh C.