Manx Juniors Proudly Fly The Flag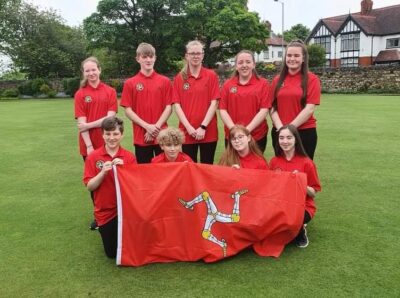 An Isle of Man Junior Team took part in the British Crown Green Bowling Association six-a-side Championship at Windle Bowling Club in St Helens on Sunday, on what turned out to be a fantastic day.
Every single one of them did themselves and the Island proud in the way that they performed and more importantly the way they behaved on and off the green, not to mention how well turned out they all were.
They won the first game 5-1 on games against North Lancs & Fylde by a landslide 51 chalks 88-37, the second game was also won 5-1 against Cheshire by 12 chalks (77-65), and the third game won 4-2 against Greater Manchester B to win by 40 chalks (77-37).
In the final round Cumbria won on games 4-2, cruelly edged the game by a single chalk (73-72) as they topped the group with 8 points.
With 2 points for each win the team finished on 6 points to finish in second place overall in the group and now qualify to play at Heaton Park in Manchester on Sunday 10th July.
Thank you to everyone who came to support, it was great to have more supporters than players there to help cheer the Juniors on.