Leagues Take Shape – Mixed Underway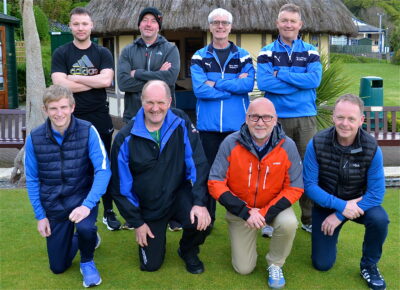 League action returned this week in Canada Life International Division One with game five of the season with the league table starting to take shape.
Marown A retained top spot thanks to a solid 2-8 away win at Mooragh Park following their second visit in the space of a week with Dean Kipling recording the best win on the night with a 21-9 win over Gary Merrill. For the home team Allan Callow continued his fine start to the season with a 21-12 win over Neil Withers, who suffered a rare defeat, while Paul Allison beat Harry Barton 21-13. The next closest to picking up another point for the home team was Adrian Skinner who lost out 18-21 to Marown captain Paul Dunn.
Marown B defeated Port Erin A 9-1 at Crosby, with Bernie Durcan the lone winner for the visitors with a 21-20 win over John Gelling, with son Steve Durcan next highest as he lost out 18-21 to Jerome Surridge. For the home team Glenn Boland beat Derek Cadamy 21-5, with Karl Parker their second single figure winner as he beat Alan Crebbin 21-9.
Peel A came away from Breagle Glen with a 2-8 win over Port St Mary A. Winners for the home team were Trevor Quayle who had a comfortable 21-13 victory over Robert Middleton, while Robbie Cooil seen off Peter Greenlees with a 21-17 win. For the Peel men Tom Kelly performed well to beat Wayne Roberts 21-16, a result matched by Stevie Kelly who beat Paul Skelly. Dean Kinley beat Nathan Hamilton 21-17, while the best winner on the night was Tommy McMeiken who trounced Jordan Drewett 21-3.
South Ramsey A managed to stay in touch with the league leaders Marown A, coming away from the Park with a 1-9 win over Onchan B to sit just a point behind the league leaders. Chas Grills returned to the A Team, recovering from a slow start to win 21-16 against Colin Brown, was backed up by four single figures winners from David Bradford, Dido Kelly, Jordan Cain and Glynn Hargraves. Mike Alexander prevented the whitewash with his 21-17 win over James Teare.
Douglas A continued their rise up the table after a difficult start to the season with a 9-1 home win over Castletown A with some hard fought wins from Andy Cannell 21-18 over George Foy, Willie Cowley and Merv Sayle won 21-19 against Juan Kermode and Mark Moorley respectively, while Ian Moore won 21-17 against Town captain Ian Watson. Jimmy Sansom and Shaun Seal had more straightforward victories over Derek Lewney and Peter Oates as they won to single figures. For the visitors Nathan Cooil had a fairly comfortable 21-14 win over Keith Rise.
The closest match of the night was out West as Peel B hosted Onchan A with the visitors snatching a 4-6 win as they won the aggregate two points by 14 chalks (135-149) with the wins fairly comfortable with Phil Kerruish the best winner as he beat Andy Mackie 21-8. Two of the home team wins were close with Paul 'Pooky' Quirk beating Neil Dunwell 21-18, Brian Lindsay won 21-19 against Will Penhallurick, while the most notable win was from Philip 'Pip' Pemberton who beat Reg Temporaza 21-16.
In Division Two league leaders South Ramsey B dropped three points at home to Port St Mary B, with Tony Dugdale and Bryan Corner leading the race for the individual merit as they maintained their unbeaten start to the season, while Christian Caley was the best winner on the night with his 21-6 win over Bernard Thackrah. The three winners for the visitors were Steve Franks with a 21-10 win over Austin Hart, Derek Cain beat Ben Dugdale 21-16, while Ray Maddrell won 21-18 against Sid Bolton.
Castletown B remain in second place and closed the gap on the leaders to four points as they beat Ballaugh B 9-1 at the Crofts, with four single figure wins from George Peach, Willie Corkill, Alan Phair and Collin Holland. For Ballaugh Dicky Watson was the only winner with a 21-17 win over John Matheson, while John Looney battled hard before losing out 18-21 to Billy Jones.
Peel C made the short trip along the coast as they took on Ballaugh A. The home team recorded a 7-3 win, Steve Grant just edging home against Philip Clarke, while John 'Shirt' Keenan won 21-8 against Eddie Convery. For the visitors Tony Carroon was in good form as he beat Peter Graham 21-3, while Harry Kelly and Alan Cromwell both won 21-17 in their wins against Richard Hainge and Nigel Tebay respectively. Just 11 chalks separated teams as the Ballaugh men took the aggregate (142-131).
Finch Hill A lost out 4-6 at home to Marown C with the visitors taking a deserved win, helped by Kevin Kelly won beat Mark Taylor 21-5. The visitors closest win was from Peter Kelly, who beat Paddy Murphy 21-19, while three of their defeats could have gone the other way as John Kelly lost 19-21 to Paul Dougherty who remains unbeaten, Conor Keenan missed out 18-21 to Les Brookes, while Stewart Clague fell short 17-21. Captain Stephen Rundle returned to the fold following his recent holiday as he helped his team with a 21-14 win over Dave Jones.
South Ramsey C managed to snatch a 6-4 home victory over Douglas B by just three chalks (142-139) with Lee Dawson their best winner as he beat Keith Fearnley 21-10. For the visitors Andy Foster won to single figures as he beat Andy Morgan 21-8, Steve Cook seen off Toby Hart 21-19, while Dave Pease just got over the line 21-20 against Tony Hart.
Onchan B made home advantage count as they beat Nobles A 6-4 with two single figures wins from Ken Clarke and Kelvin McNicholl making the difference on the aggregate as the home team won by 19 chalks (144-125). For the visitors Martyn Hobson beat Denis Maxwell 21-10, Jim Collister beat Paul Callister 21-14, Jay Elliott won 21-16 against Sid McKnight, while Alex Yates dug deep to win 21-20 against Roger Payne.
In Division Three North Ramsey B went top as they took advantage of Noble's B taking their turn to sit out with the second true draw of the season following their 5-5 draw away to Douglas C, who themselves sit in second place, with the Villa men able to call on Tommy Collister and Kevin Firth, who both won their games, while Nick Firth picked up a fine 21-15 over Brian Colquitt while Ashley Halsall picked up their fourth win of the night. Winning for the visitors were Ray Skelly, Tony Smart, Lee Christian and Mike Skelly.
Marown D recorded a 7-3 win over South Ramsey D on Tuesday, helped by two big wins from Steve Rough, who beat Chris Brown 21-3, while Alan Gault won 21-9 against Steve Kelly. Best winner for the visitors was Matthew Corkill as he beat Keith Watterson 21-4.
Finch Hill B kept the visitors Castletown C to under 100 chalks with their 7-3 win. Five single figure victories helped their cause with Frank Christian, Stephen Oates, Kevin Stannard, John Smith and Sam Stannard-Duke all winning comfortably.
Elsewhere Peel D lost out 4-6 at home to Ballaugh C as they lost the aggregate by a solitary chalk (134-135), while Port Erin B took a comfortable 8-2 win at home to Douglas D.
The Mixed League group stages got underway on Thursday evening with the match of the night in the Championship Group A going right to the wire with North Ramsey A winning 5-4 on games, however the visitors got the two points available on the night as they edged the chalks (151-152). The other match in the group was also close with Onchan A beating Castletown A by 13 chalks (160-153).
In Group B Marown A came away from Breagle Glen with a 1-8 win over Port Erin as they dropped just 10 chalks winning by a 50-point margin (129-179). Douglas A Hosted Port St Mary A with the visitors winning by 28 chalks (130-158)
In the Plate Competition in Group A Peel seen off visitors North Ramsey B by 22 chalks (180-158), while it was great to see Nobles field a mixed team as they won comfortably by 59 chalks (108-167) against a Castletown B side fielded to give Juniors an opportunity to gain experience.
In Group B Marown B also fielded a team packed with Juniors and new Bowlers as they performed admirably winning four games on the night only to lose out by 24 chalks (132-156) to Douglas B at Crosby, while Ballaugh top the group thanks to a 32 chalk away win (133-165) over South Ramsey B.