Ladies Millenium 4's concluded after postponed by torrential rain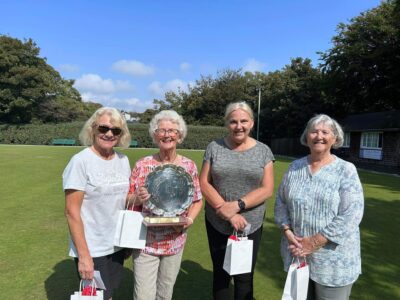 The Ladies Millenium 4's was completed on the morning of Sat 2nd September, due to having to be postponed due to horrific weather the previous month.
The semi final stage saw eventual winners Margaret Tasker, Trish Bull, Linda Cadamy and Lyn Bolton take on Debbie Leece, Clare Cooper, Helen Withers and Rebecca Teare. 45 v 35. Cath Harvey, Rose Waterworth, Loiuse Tebay and Maria Dimsdale played Jenny Moore, Gill Dixon, Kim Hargraves and Fiona Kennish 32 v 35.
The final saw Trish Bull 9 V 15 Jenny Moore, Linda Cadamy 15 V 14 Kim Hargraves and the doubles game Margaret Tasker and Lyn Bolton 15 V 5 Fiona Kennish and Gill Dixon. Which resulted in a final score of 39 V 34 to Margaret, Trish, Lyn and Linda.
The Ladies Association presented the Trophy and prizes and thanked Douglas Bowling Club for accommodating the 2 dates to hold the competition. Also thank you to the players for returning to conclude the event on a much sunnier day.