KNR Construction Win for Moore & Teare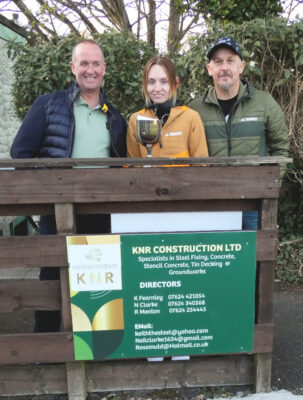 Saturday saw the first ever running of the KNR Construction Mixed Pairs, which was hosted by Douglas Bowling Club at their Villa Marina Green. On a bright but chilly day with the Green running well those watching were treated to some good bowls.
At the quarter final stage Tina Hampson (Onchan) and Dave Naughton (Noble's) lost 8-21 to the Mother and Son pairing of Paula (Onchan) and Nick Firth (Douglas) and a great battle between Clare Cooper (Marown) and Wayne Roberts (Port St Mary) and home greeners Jan West and Andy Cannell saw the latter pairing use their home green knowledge to take the win 21-18. Caroline Whitehead (Port Erin) and Mark Kelly (Onchan) showed good form to beat South Ramsey pair Elaine Moore and Glynn Hargraves 21-15, whilst another South Ramsey pairing Jenny Moore and James Teare took a 21-19 win against Sue Gawne (Onchan) and Andy Kennish (Peel).
In the semi-finals Jan West and Andy Cannell were forced to fight hard to eventually overcome Paula and Nick Firth, while Jenny Moore and James Teare put on a great show of bowling to beat Caroline Whitehead and Mark Kelly 21-7.
In the final Jenny and James started well to soon build up a lead with Jan and Andy then putting up a comeback but eventually found their opponents too strong and it was James and Jenny that took the win 21-13.
Gordon Wynne-Smythe of Douglas Bowling Club introduced Neil Clarke of KNR Construction to present the prizes and in his speech James Teare thanked the Sponsors, Douglas Bowling Club and the Greenkeeper and everyone who helped to run the event.
Douglas Bowling Club would also like to thank the Sponsors and everyone who helped on the day.