Hargraves Wins Association Singles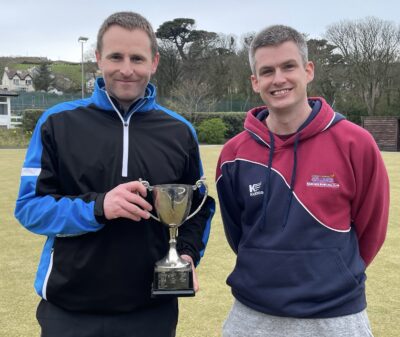 Port Erin Bowling Club hosted the Association Singles on Sunday with the competition attracting a perfect 32 entries on a much improved green, which was running well.
The first two quarter finals were well contested with Neil Withers (Marown) losing out 18-21 to South Ramsey's David Bradford, whilst Matthew Keggen (Marown) just lost 19-21 to Wayne Roberts (Port St Mary). In the bottom half of the draw it was a lot more straightforward with Colin Kelly (Marown) seeing off Peter Greenlees (Peel) with a 21-11 win, whilst Marown captain Paul Dunn had his challenge ended by South Ramsey captain Glynn Hargraves with the latter taking a 21-9 victory.
In the semi-finals Bradford took on Roberts with the game well contested throughout, the scores were tied at 15-15 after 14 ends, with Bradford going on to take four of the last six ends to secure his place in the final with a 21-17 win. In the other semi-final between Kelly and Hargraves it was the latter who was the quickest out of the blocks taking a 11-6 lead early on only for Kelly to draw level at 13-13 after 11 ends. From there Hargraves took control of the game to win the next five ends scoring seven chalks in the process to lead 20-13. Kelly threatened a comeback with four successive singles, however Hargraves got the single point needed to win 21-17.
The final got underway between the two long time team mates, with Hargraves settling into the game well to hold a three chalk lead over Bradford after eight ends with the score at 11-8. From there Hargraves never fell behind in the game, playing good length bowls to build a 16-12 lead, only to concede a double to leave the game finely poised at 16-14. Hargraves immediately bounced back with a double after a poor end from Bradford. Three good leads over the next three ends were enough for Hargraves to secure a 21-14 win and with it the first Men's singles competition title of the 2022 season.
The presentation was made by competition secretary Matthew Keggen, who thanked Port Erin for the use of the green, the club members for providing helpers and refreshments throughout the day and the competition committee for the smooth running of the competition.