Jenny 'Lights Up' Marown
Jenny Moore is believed to be the first woman to win a mixed singles bowling tournament in the Isle of Man for a number of years.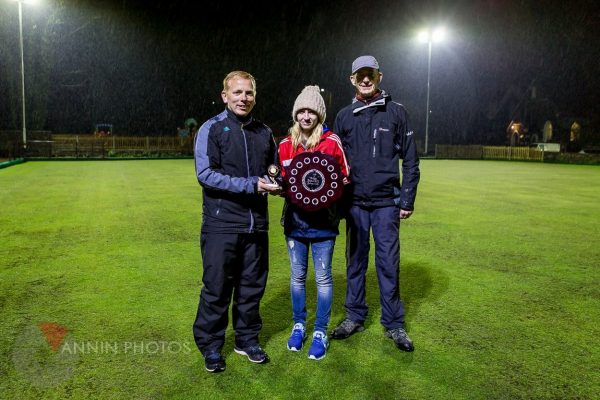 The South Ramsey player lit up the first open of the season at Marown Bowling Club last week following extensive work on & around the green by club members over the winter.
Some of this work involved 'filling in the corner' and more importantly the introduction of new floodlights, which will no doubt help our competition secretary with arranging fixtures!
An excellent entry of 98  meant that the event was held over 5 evenings with 4 qualifying nights, playing down to 4 each night. Finals night had some familiar faces, with Jenny Moore being the only Lady to qualify for the last 16.
The losing quarter finalists were Matthew Quirk, Adrian Skinner, (Onchan) Steven Waters (South Ramsey) & Mervin Sayle (Douglas)
The first semi final had John Kennish lined up against his niece Jenny Moore, with the latter getting over the line to win 21-20.  In the other semi final Dido Kelly played home greener Colin Kelly in another tight game with Kelly taking the victory 21-19.
In the final Jenny was always in control of the game with a comfortable 21-13 win over her club mate,
The final was streamed live on Facebook.
With this victory Jenny has shown that she is more than capable of competing with the men.
Various prizes were handed out at the presentation ranging from biggest break, best 2nd & 3rd division players, to best junior and best lady.
Thanks go to all who helped make a success of the competition.