'Geordie' Wins Ramsey Town Cup to Claim First Singles Open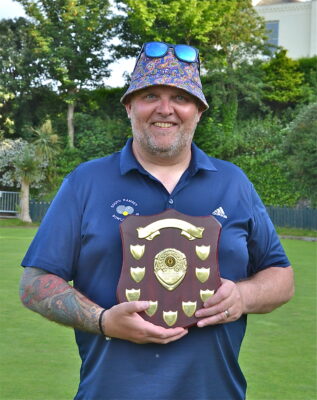 Mooragh Park was bathed in sunshine on Saturday afternoon when 48 bowlers took part in the Men's Ramsey Town Cup sponsored by Corkhill and Callow.
In ideal bowling conditions the preliminary rounds were contested and some great games were won or lost with many of them down to the last point.
Making it through to the quarter finals Tom Kelly just pipped Peel team mate Gary Smith 21-19 as did home greener Gary Lenton who beat Tony Carroon (Peel) 21-20. South Ramsey's Steven Waters and Glynn Hargraves had slightly easier wins and came out on top against Steve Walmsley (North Ramsey) 21-14 and Dave McCabe (Finch Hill 21-15.
The semi-final between Gary Lenton and Steven Waters was very close laying 19-19 after 17 ends. Gary claimed one point on the 18th end but Steven played a fantastic bowl on the 19th end to grab two points and claim his place in the final 21-20. The other semi between Glynn Hargraves and Tom Kelly was equally exciting with both players matching each other end to end and laying 20-20 after 19 ends. Glynn kept his cool winning the final point 21-20.
The final between two of South Ramsey's most popular players was always going to be exciting. After 14 ends Glynn was playing catch up 12-16 but he played some great shots to overtake Steven on the 21st end leading 20-18 but two points to Steven on the next end left them 20-20 for the final end which was very close, but the final point went to Steven Waters and crowned him the winner of the Men's Ramsey Town Cup 2021.
The prizes were presented by Tim Pressley Managing Director of Corkhill and Callow Funeral Directors who had kindly sponsored the competition. Thanks were given to the sponsors by Steven Waters who also thanked everyone at North Ramsey for hosting the event and all the work that has been done recently on the green to improve it's condition.