First Festival Title for Coates
One of the biggest events on the bowls calendar – The Isle of Man September Bowls Festival took place last week, with the competition played out in glorious weather throughout the entire week, with the best week of weather the Island has enjoyed since June.
In the Men's event it was Gareth Coates (Ackroyd Victoria) who picked up his first Festival win, having reached the quarter finals last September he was determined to pick up the coveted title as he got his hands on the famous trophy and took home the winners' cheque for £3,200, with the victory clear to see how much it meant to him upon winning and during his speech.
Coates more than deserved his victory as he had to overcome the challenge of another regular visitor, June 2012 winner Robby Fitzpatrick (Wirral) whilst also beating another former winner Callum Wraight (Castlefields) in a thrilling semi-final.
To reach finals day Coates cruised through both games at the last 32 stage as he beat Stuart Sutton (Fairfield) 21-8, then went on to beat another former winner Colin Kelly (Marown) to the same score. In the early rounds Coates took two single figure victories and a 21-11 win in the last 64.
In the final Coates was the quickest out of the blocks as he stormed into a 15-5 lead in the corners, with Fitzpatrick clawing back five chalks at 10-15, however the comeback was short lived as Coates kept the pressure on playing good bowls forcing his opponent to strike on more than one occasion to hang in the game. Coates ensured his the Wirral man scored just two more singles to seal a superb 21-12 victory with a dominating performance in the final.
Both semi-finals were absolute thrillers and could not have been closer as Coates looked nailed on to reach the final as he went into a 15-8 lead on a longer length against Wraight. The latter responded with three quick fire doubles and a single to level the game up at 15-15, then went ahead to lead 20-17, with Coates having earlier killed an end with his opponent counting for two. On the following end Wraight was counting two good bowls, it was all or nothing for Coates who hit a great strike making a full connection to take both of Wraight's bowls off the green with his second bowl rolling to the edge and just holding on the green to make two. With the score now at 19-20 Coates again went for a bit of distance as he put up two good bowls to lie game. Wraight went for a strike, which went through the gap to seal a superb comeback from Coates to win 21-20.
The other semi-final between Robby Fitzpatrick and Martin Gilpin (Netherfield) saw the former go into a 14-10 lead, only for Gilpin to get back into the game to lead 19-17, with Fitzpatrick playing a good first bowl to sit one chalk behind at 18-19. On the next end, for Gilpin it was an opportunity missed with the chance to make two for game, as he picked up the jack making too heavy a connection as he scored a single to lead 20-18. A great two on the following end from Fitzpatrick resulted in a one end shootout with Fitzpatrick playing a good lead bowl sitting just behind the jack, which Gilpin couldn't beat as the Wirral man reached the final.
The quarter finals were all straightforward for the winners with Coates ending the hopes of Glen Herbert (Castlefields) with a 21-14 win, with Wraight beating South Ramsey's Bob Clark 21-9 with the latter reaching his second successive September finals day. In the bottom half of the field Fitzpatrick beat Neil Rigden (Bretherton) 21-6 with an emphatic victory, whilst the closest game of the round was between Gilpin and David Bradford (South Ramsey), with Gilpin prevailing 21-16. Bradford was the local player who had progressed the furthest and received the Chris Quayle Memorial trophy for the furthest Manx Man.
Men's Tourism
The Men's Tourism was played down to the winner on Thursday morning on Noble's 1, and it was Ryan Clark (Meersbrook BC) who performed brilliantly to see off James Higgins (Sheffield) with a resounding 21-8 victory.
In the semi-finals Clark beat Colin Kelly (Marown) 21-8 to reach the final, whilst Higgins got through a hard fought game with James Wilcox (Crossgates) 21-18.
In the quarter finals Clark progressed with a 21-19 win over Dave Phillips (Lloyd Hotel), Kelly reached the semi-final with a 21-10 victory over Gareth Hughes (Castlefields), whilst Higgins ended the challenge of Ben Phillips (Lloyd Hotel) with a 21-13 victory. The last quarter final was between Wilcox and Rob Monk (North Ramsey) with the former winning 21-11.
Other Events
The Men's consolation was won by Dan Petcher (Littleover) who beat Kevin Williams (Knutsford) 21-12 in the final, with Petcher winning 21-17 against Colin Scorah (Rothwell) in the semi-final, whilst Williams edged home 21-20 against Gerald Merry (Delamere).
The Ladies consolation was won by Caroline Whitehead (Port Erin) defeating Joyce Jones 21-16 (Sykes BC) in the final. Whitehead reached the final with a 21-18 win over Marian Woods (Lindal BC), whilst Jones beat Amanda Nicholas (Gresford Colliery) 21-20.
The Visit.Com Flyer title went to Robert Monk (North Ramsey) who had a good 9-4 win over Gareth Jones (Dalton CC), whilst the Last Chance Mixed Final was won by a regular visitor Gwerydd Buckland (Bangor City) who beat Clair Russell (Alkin Coats) 21-17 in the final.
In the doubles competitions the Open doubles was won by Marown's Neil Withers and Paul Dunn with a resounding 11-3 win over South Ramsey pair Jordan Cain and Stefan Kelly. Withers and Dunn reached the final with a 11-5 win over Paul Morgan (Whitby BC) and Gareth Coates (Ackroyd Victoria), whilst Cain and Kelly ended the challenge of Claire Pugh (Woodfield) and Joe Dicken (Woodfield) with a 11-5 victory.
The Men's doubles were won by South Ramsey pair Glynn Hargraves and Bob Clark as they beat Kevin Quirk and Steve Parker (both Onchan) 11-6 in the final. Hargraves and Clark reached the final with a comfortable 11-3 win over Ieuan Pugh and Andrew Armstrong (both Hanmer), whilst Quirk and Parker came through a tough game against Nathan Brown and Matt Sands (both Lloyd Hotel) with a 11-8 victory.
The Ladies doubles were won by Diane Harrison and Gill Simm (both Lune Road) defeating Veronica Lyon (Unison) and Christine Lawton (Garswood Hall) 11-10 in the final, with Harrison and Simm reaching the final with a 11-6 win over Lisa Pessall and Shavorne Osborne (both Trench BC). whilst Lyon and Lawton won 11-5 against Claire Pugh and Mandy Pagett (both Woodfield) to book their place in the final.
Winning the Mixed pairs were Nicola Gilmore-Coupe (Wirral) and Gareth Coates (Ackroyd Victoria) with an emphatic 9-2 win over Caroline Whitehead (Port Erin) and David Knights (Whitby BC) in the final. Gilmore-Coupe and Coates reached the final with a 9-7 win over Lorraine Hirst (Lindal BC) and Andy Mailer (Meersbrook BC) Whitehead and Knights won 9-1 against Caroline Bushell (Lindal BC) and John Colebourne (Chesterfield) to reach the final.
The Triples was played once again this year with the competition played on three greens over six ends on Wednesday morning down to the winner from each green. Winners at the Villa were Gill Simm, Barry Simm, and Peter Shallis (all Lune Road) with the trio of Amanda Nicholas, Kevin Nicholas (both Gresford Colliery), and Tom Lowndes (Hanmer) winning on Noble's 1 green, whilst Dave Baskerville, Steve Baskerville, and Dave Jackson (all Knutsford) were the winners on Noble's 2 green.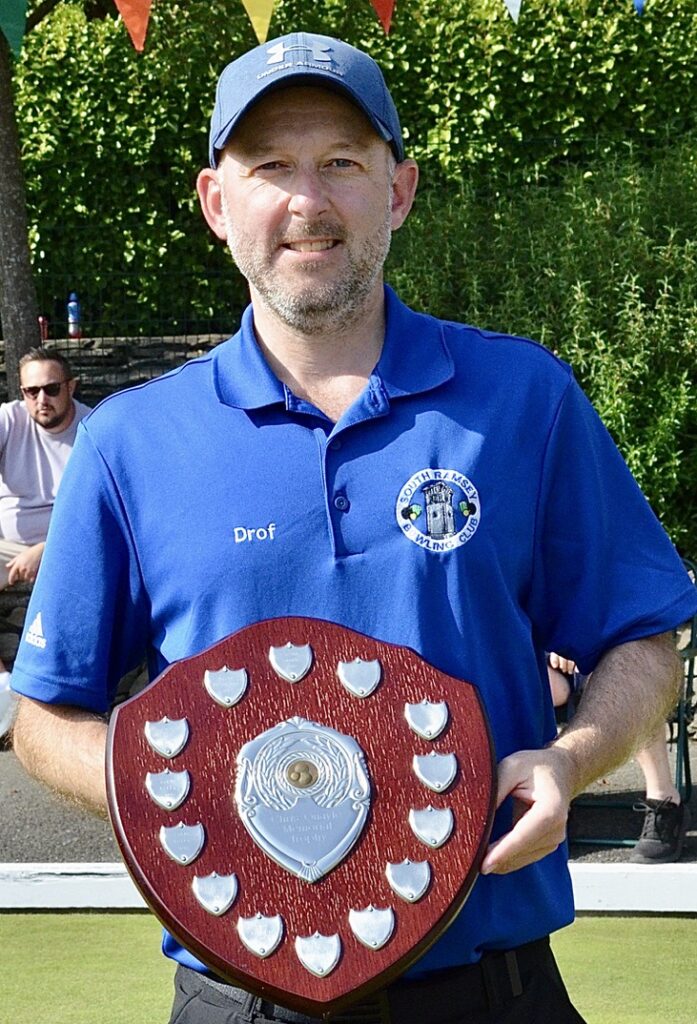 David Bradford – Winner of Chris Quayle Memorial – Furthest Manx Man 2023
Photo: Arnie Withers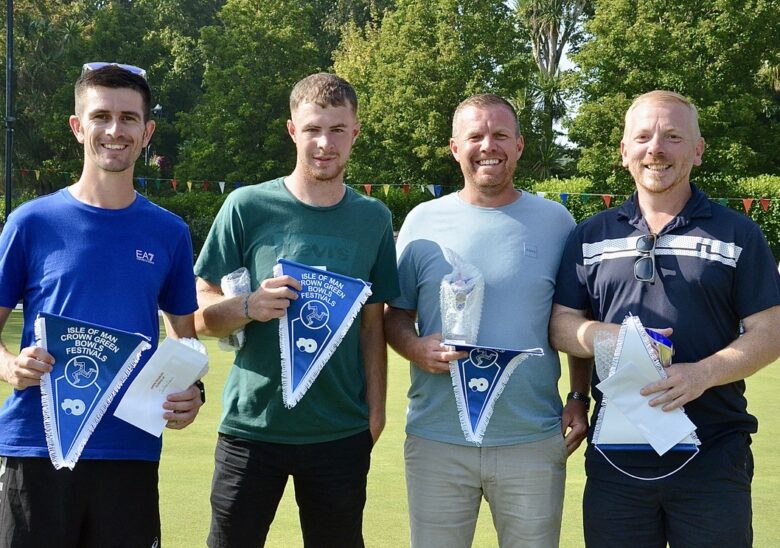 IOM September Open Doubles 2023 – Runners Up Jordan Cain & Stefan Kelly with Winners Paul Dunn & Neil Withers
Photo: Arnie Withers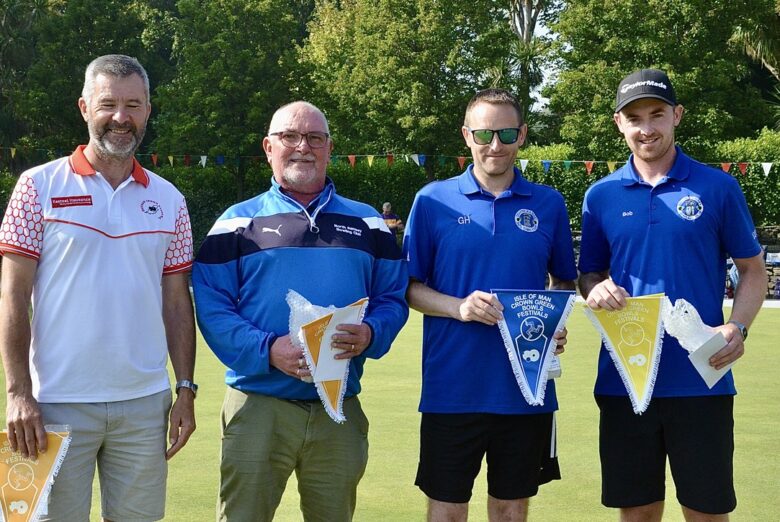 IOM September Mens Doubles 2023 – Runners Up Kevin Quirk & Steve Parker with Winners Glynn Hargraves & Bob Clark
Photo: Arnie Withers