Canada Life International Players of the Month – June 2022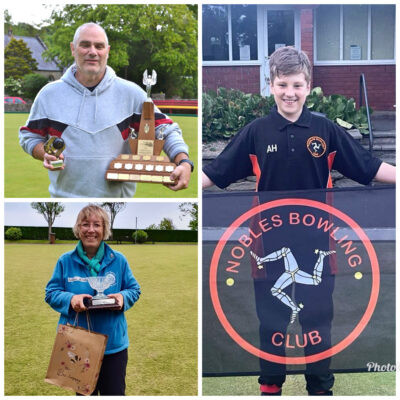 The IOMCCGBA in partnership with Canada Life International are looking to recognise high performance across the sport each month.
Congratulations to June Award winners: –
Men's Player of the Month: Philip 'Rambo' Kelly – Marown
Ladies Player of the Month: Janet Monk – Mooragh Park
Under 21's Player of the Month: Alex Hampson – Noble's

Rambo won all his Canada Life International Division One games in June, whilst more impressively going on to win his first Open Competition in 'a few' years by picking up the Henry Kissack Trophy on home turf, where he excelled on the day beating a fine list of players Paul Dunn, Colin Kelly and Neil Withers on the way to victory.
Janet had a great month on the green across all the association team events, winning all six of her games played, with all but one match being won to single figures, even this only just crept into double figures – very impressive. This follows on from Janet's success in May with the Top Lady event won at Onchan, beating the Island's Top bowlers on her way to picking up the title.
Alex won both of his Division Three games in June, whilst only just being pipped in his Mixed League game 21-16 against a very experienced Men's Division One player. In addition to this Alex excelled for the Junior Island Team whilst representing the Isle of Man at Heaton Park in Manchester, winning all three games against Warwick & Worcestershire B, Cheshire and Yorkshire – winning one game 15-0, another fairly comfortably 15-10, whilst also demonstrating his ability to dig deep as he held his nerve to win 15-14 to cap off a superb day.