Bradford Wins First Title of 2022 Season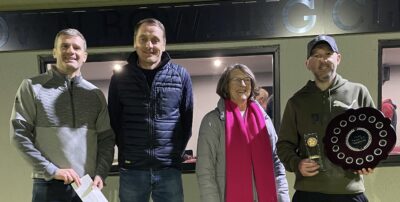 Marown held the opening tournament of the season following a gap of two years due to COVID, with the newly named Ian Kissack floodlight competition sponsored by Ardern & Druggan Limited attracting a healthy entry of 71. The competition was played over four days, handicaps ranging from two to eight with two qualifiers from the four qualifying sessions.
The competition commenced on Sunday afternoon with home greener Colin Kelly doing enough to qualify for the finals night ending the challenge of visitor Peter Jones, whilst club mate Debbie Leece performed well to book her spot in the quarter finals.
Sunday evening continued the run of home green players qualifying with Neil Withers seeing off his team mate and captain Paul Dunn on his way to book his spot in finals night, while Rebecca Teare ensured she progressed with a close fought game against Marown A player Phil Kelly.
Monday evening's action started to see the away greeners progress with South Ramsey's Glynn Hargraves navigating his way through his three qualifying games, with Hargraves being pushed hard by Will Penhallurick (Onchan) who lost out 19-21. In the other half of the session Peel D player Andy Mackie who only took the game up part way through last season, was playing off a handicap of seven, however Mackie was not to be underestimated as he recovered from a 11-14 deficit in his last game of the night to take 10 consecutive chalks to win 21-14 against the highly rated Trevor Quayle (Port St Mary).
The last qualifying session took place on Tuesday evening with new South Ramsey signing Bob Clark squeezing through his last game of the night 21-17 against Peel's David Proctor, whilst team mate David Bradford who had only had one run out this season following a recent bout of COVID made no mistake in taking his spot in finals night as he beat Marown player Paul Kelly 21-15 on the way to qualifying.
Finals night was highly anticipated with two strong players from the Ladies game, five top Men's players split between Marown and South Ramsey, with Peel D man Andy Mackie the surprise package.
The competition was redrawn at the quarter final stage with Rebecca Teare leading 18-14 against Clark, only for the latter to fight back and run out with a 21-18 victory. Debbie Leece led 13-10 after nine ends against Andy Mackie only for Mackie to stamp his authority on the game taking a 21-16 win to book his spot in the next round.
In the other half of the draw Glynn Hargraves built up a 17-8 lead only for Withers to fight back to 19-20, with Hargraves securing the single he needed to win 21-19. David Bradford also had a good lead on Manx Champion Colin Kelly, only for Kelly to get back into the game at 17-18. Bradford took the next two ends with a double and a single to win 21-17.
Continuing the trend both semi-finals were well contested with Mackie having a good lead on Clark, with Clark fighting back to lie game counting two at 19-20, however a slice of good fortune with an 'in-off' his own bowl secured the single needed by Mackie to book his place in the final. In the other semi-final the South Ramsey team mates had a good battle with Bradford edging it 21-17 against Hargraves.
The final was eagerly anticipated with Bradford starting on a handicap of three and Mackie starting on seven. Bradford pulled the handicap back early, with Mackie picking up the odd point to stay in contention. Mackie fought back with two quick doubles to threaten a huge upset as he took a 15-12 lead, however Bradford's experience came through as he scored nine chalks over the next six ends to win 21-15 to pick up his second title in this competition after his 2018 success. Huge credit must go to Mackie who has not yet played a full season of bowls and having only played a couple of open competitions.
The presentation was made by Marown President Peter Kelly, with Kevin Druggan introduced from the sponsor Ardern & Druggan, whilst Ian Kissack's sister Gill presented the shield to the winner. Thanks were given to the Marown ladies for the excellent refreshments provided. In his speech Bradford spoke of the huge loss to Marown over the past couple of months with the passing of Pat Withers and Ian Kissack.