Bradford Winning Streak Goes on With Dreswick Cup Win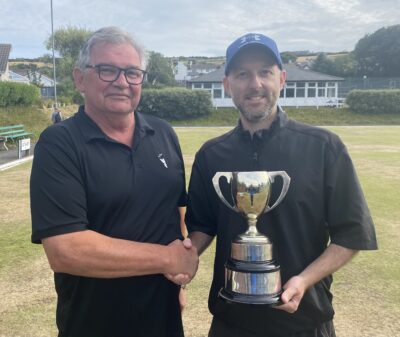 The Dreswick Cup was held for the first time at Breagle Glen with an entry of 35 who took part on a tricky green with a good afternoon of bowling. The competition was once again sponsored by The Albert Hotel – Port St Mary.
In the quarter finals the current holder Bob Clark (South Ramsey) got the better of his captain Glynn Hargraves with a 21-14 win, whilst home favourite Trevor Quayle (Port St Mary), ended the challenge of Neil Dunwell with a 21-16 victory. Manx Champion David Bradford put paid to the hopes of Seamus Whelan (Port Erin) with a 21-10 win, whilst another South Ramsey man went on to reach the semi-final with Peter Collister seeing off Wayne Roberts 21-14.
In the first semi-final Clark got the better of Quayle in a keenly contested game with the South Ramsey man getting home 21-18 win to take his place in the final, while in the other semi-final Bradford put paid to Collisters' hopes of a third win in this competition as the latter lost out 21-15.
In the final Bradford made the better start as he leapt into a 10-6 lead, however Clark clawed his way back into the game, with Bradford enjoying considerable success with his strikes being the main difference early on in the game with the score at 13-12. Bradford then settled on a mark over the middle of the green from the Café to the glass shelter and back as he scored eight consecutive chalks to run out with a 21-12 victory and seal his second win in this competition, with the last title picked up in 2005.
At the presentation Club President Margaret Tasker thanked the Port St Mary ladies for providing the refreshments, Wayne Roberts for running the competition, along with anyone else that helped on the day. Long standing sponsor of the competition Pat O'Meara from the Albert Hotel was then introduced to present the prizes.