Boland Claims 2nd Junior Championship Win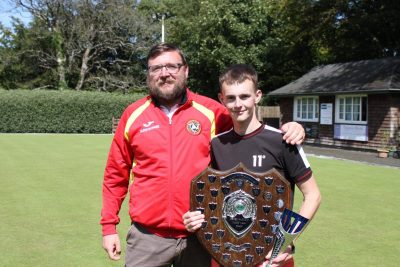 A bumper entry of 25 junior bowlers from all over the island entered the Ellan Vannin Fuels Junior Manx Championship on Saturday, it was 17 year old Glenn Boland who made the most of his final opportunity to win the Ellan Vannin Fuels Junior Manx Championship. This was a fantastic entry, that could have been a lot higher if some of the younger bowlers who attend the club sessions had also entered.
In what must be a first in the Junior Championship there were more girls entered to play than boys, which was fantastic to see, with some great bowls played by all the juniors. The experience gained from playing in these competitions will help the younger bowlers, however it was the older Juniors who progressed to the latter stages.
Losing out at the quarter final stage were Victoria Johnson (Mooragh Park), who lost 16-21 to Grace Gawne (Onchan), Austin Hart (South Ramsey) who battled brilliantly pushing Glenn Boland (Noble's) all the way before losing out 20-21, Aalish Howarth (Mooragh Park) who lost 19-21 to Toby Hart (South Ramsey), whilst last year's winner Shannon McMullan (Mooragh Park) lost out to younger sister Madison McMullan (Mooragh Park) 16-21.
In the semi-finals Glenn Boland was up against Grace Gawne with the latter performing brilliantly, taking a 17-16 lead against the more experienced player, before eventually losing out 17-21. In the second semi-final Madison McMullan was up against Toby Hart with Madison starting well taking a 14-5 lead. Toby hit back with five doubles in the next six ends to level the match at 15-15. The unflappable Madison kept her composure well to take two singles and two doubles to take a fantastic 21-15 victory to reach the final.
In the final it was close over the first 11 ends with neither player able to build a lead. In the second half of the game Glenn got into his stride scoring several doubles, which ultimately proved to be the difference with Glenn scoring nine doubles to Madison's three doubles during the course of the match. Glenn ran out to deservedly win 21-13 to take the Junior Manx Championship title, following his first win in 2018.
The presentation was made by Association competition committee member Mark Kneen, who thanked all the juniors for taking part, Douglas Bowling Club for providing the refreshments and measurers and the team who had prepared the green for the early start. A special mention was also given to the Mooragh Park girls who had performed really well.