A Fitting Tribute to Sophie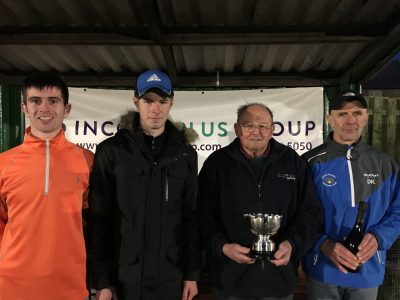 The Income Plus Services sponsored Jim Senior Team Fours was held on Sunday at South Ramsey with 19 teams taking part which resulted in the games being played as two pairs instead of the usual doubles and two singles games with the team with the highest chalks taking the win in each tie.
The competition was a massive success with the aim being to raise £1,000 in favour of Rebecca House Children's Hospice. This target was easily surpassed thanks to the generosity of the local bowling fraternity who dug deep for this very worthy cause with £1,400 being raised thanks in part to those who couldn't be there but still purchased raffle tickets ahead of the day. This amount will be topped up by a further £1,000 by Barclays to give a grand total of £2,400 to be passed on to Rebecca House Children's Hospice in memory of Sophie Kelly, which is a charity close to the heart of the family of Dido and Lisa Kelly following the loss of their daughter last year.
In what was a fitting tribute to Sophie, the winners at the end of a long day were Sophie's brother Stefan Kelly, Dad Dido Kelly and Grandad Alan Kelly ably backed up by Onchan's Jordan Cain. They held off the home team of Lyn Bolton, Sid Bolton, Steven Waters and included Wayne Roberts (Port St Mary) to record a win of 38-31 in the final. It was great to see Alan Kelly back playing and he defied his years to play superbly throughout the day to help his team win.
Losing out at the semi final stage to the eventual winners by eight chalks (34-42) were the Ballaugh Team of Patrick Grant, Steve Grant, Tony Quine and Edward Trustham, along with the Ladies Team of Lil Smith, Mary Alderson, Elaine Moore and Gill Dixon who lost out by just five chalks (31-36).
The presentation was made by South Ramsey Chairman Steve Moore and thanks were given to the sponsors Income Plus Services and everyone for their generosity. Thanks were also given to Glynn Hargraves for organising and selling the raffle, all the club members who contributed in anyway from those running the competition, to the Ladies for providing the top notch refreshments throughout the day. Not to forget the improvement on the green and to those who helped on and off the green to prepare for the competition.
In Dido's speech he became understandably emotional and thanked everyone who made today possible as Rebecca House had helped the family so much.
The winner of the 2 foot passenger IOM Steam Packet vouchers was Gill Morgan who eventually claimed her prize after purchasing £20 worth of raffle tickets!
Finally a personal thank you to everyone who helped source raffle prizes and to all the local businesses who kindly donated a prize:-
IOM Steam Packet, Splinters, Feltons, JJ barbers, Intersport, Teare's Butchers, Farmer Combine, Ramsey Garden Centre, Allan Callow, Bourne Plaice and Trawler Man Chippy