'Yorkshire Is Best' in IOM June Festival
The top prizes in the Isle of Man June Bowls Festival went to two visitors with James Wilcox (Crossgates BC) winning the men's event, whilst Alexis Lunn-Gadd (Ossett Flying Horse) won the ladies event.
James Wilcox picked up his second June Festival win, having previously won the title in 2017 and the winners cheque for £3,000 after overcoming the challenge of Jack Dyson (Thongsbridge) who was the current holder with the event last being played in June 2019. With Dyson winning the toss of the coin, he put up a good lead only to knock the jack to Wilcox to lose the first end. An early exchange of ends saw Dyson go on to take the lead 9-8 with a great reaching bowl played to perfection to count for two with his opponent lying two himself. Wilcox did not let his focus drop as shortly after the setback as he went on a six end winning streak with five singles and a double on a longer length to gain control of the game with a 15-9 lead.
As the rain threatened to take hold in the second half of the game Dyson responded with three singles over the next five ends, however Wilcox scored two excellent doubles to pile the pressure on as he extended his lead to 19-12. Another mini fightback from Dyson looked to be on the cards as he scored a double followed by a single to reduce the deficit to four chalks at 15-19. On the 21st end Dyson left his bowl two foot short on a longer length, with Wilcox punishing the lead to count for one and within touching distance of the title. A good lead from Wilcox was beaten brilliantly by Dyson, only for Wilcox to play a few yards over to come in-off his own bowl to count game, with Dyson failing to disturb the end a 21-15 win was sealed with a triumphant fist in the air and a throw of his cloth. Whilst Dyson couldn't retain his title the blow was somewhat softened in receiving a cheque for £1,000.
Wilcox reached the final courtesy of a hard fought 21-19 win in a good quality game over another Thongsbridge player Chris Kelly, with the latter having led 19-17 Wilcox ran out to book his place in the final. Dyson took his spot in the final with a comfortable 21-11 victory over Charlie Roberts (Dukinfield Central).
In the quarter finals Wilcox ruthlessly ended the challenge of former winner David Jackson (Knutsford) with a 21-8 win, whilst Kelly was able to see off current September holder Callum Wraight (Llanrst) as he won 21-17. Dyson had the closest match of the round as he recovered from a 7-14 deficit to James Hynes (Springbank) to win 21-18, whilst Roberts put paid to the hopes of Dave McDermott (Birchleigh St Marys) with a 21-16 win.
Receiving the George Craine Trophy for the furthest local player was Paul Dunn (Marown).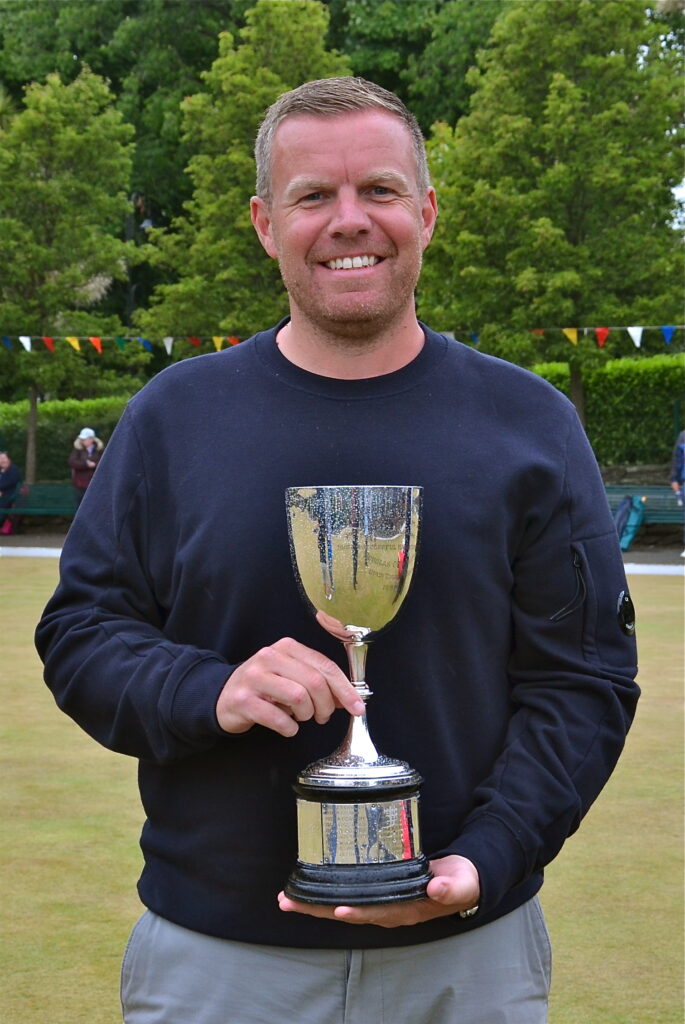 In the Ladies main competition Alexis Lunn-Gadd (Ossett Flying Horse) won her third June title receiving a cheque for £1,000 to take a deserved win over Sally King (Wrockwardine Wood). King received £600 as runner up. King made the better start to take an early 9-7 lead, with Lunn-Gadd responding with a run of six consecutive ends to lead 15-9. King got back in with a single and was counting for two only for a strike from her opponent which got the perfect connection and outcome to ensure she stayed firmly in control to lead 17-10. A single on the next end pushed Lunn-Gadd ever closer at 18-10, only for King to respond with a double and two singles to sit four points behind at 14-18. Three singles from Lunn-Gadd were enough to see the game out and secure the title with a 21-14 win.
In the semi-finals Lunn-Gadd had to battle hard to get over the line against one of the top bowlers in the game who was visiting for the first time as she ended the challenge of Nicola Boulton (Frodsham Red Lion) with a 21-18 victory, whilst King had to dig deeper still to make the final as she got over the line 21-20 against Caroline Bushell (Co-op).
Furthest local player reaching the quarter finals was Marown's Philippa Taylor who received the Visit IOM.com trophy. Taylor's challenge was ended by Bushell, whilst King put paid to the hopes of Kaye Coulthard (Cradley) with a 21-16 win. Lunn-Gadd won fairly comfortably 21-15 against Jane Glaister (Windermere), while Boulton reached the semi-final courtesy of a single figure win (21-9) against Vicky Mosley (Wirral).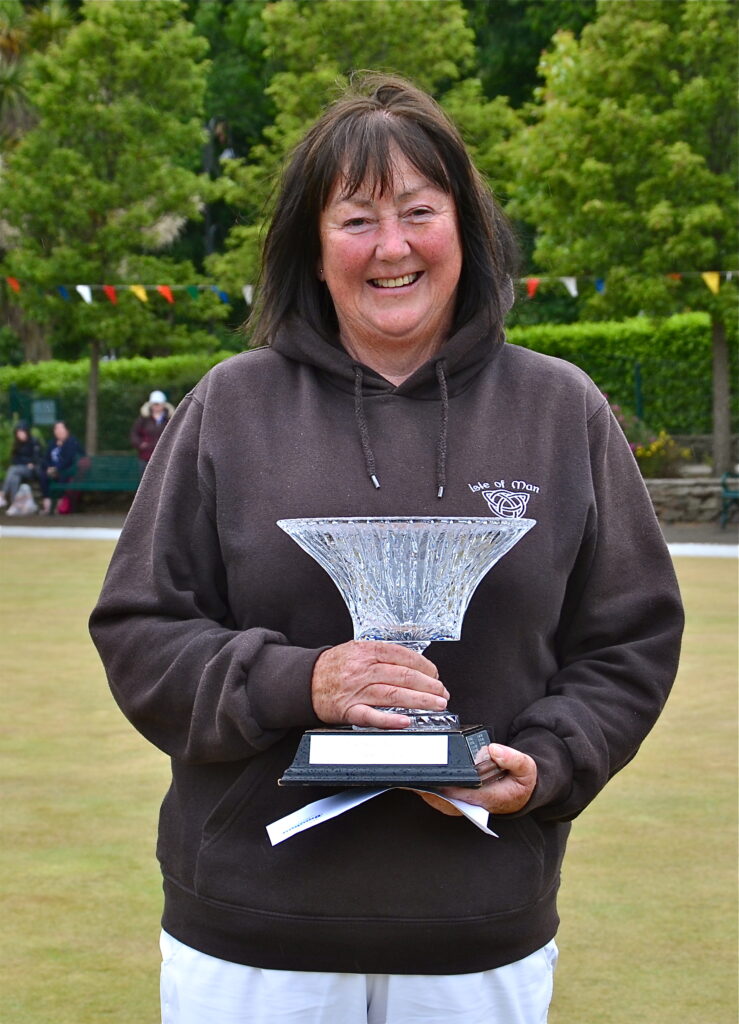 The Men's Tourism was played down to the winner on Thursday morning on Noble's 1 with Owen Jackson (Parkfield) taking the Tourism title defeating Graeme I. Wilson (AEU) with a 21-17 victory in an entertaining game for the spectators.
Losing semi-finalists were Gareth Hughes 13-21 (Llanrwst) to Wilson, whilst Marown man Colin Kelly just lost out 18-21 to Jackson.
Falling at the quarter final stage were Ben Gloag (Grapes Hotel), Robby Fitzpatrick (Hoylake Central), Richard Goddard (Llanrwst) and Kevin Quirk (Onchan).
The Ladies Tourism was also played down to the winner on Thursday morning on Noble's 2 green with Nicola Boulton (Frodsham Red Lion) getting the better of Sarah Fox (Maltby BC) with a 21-14 victory.
Boulton earned her place in the final following a comfortable 21-12 semi-final win over Sharon Rigden (Penwortham Sports). In the other semi-final Fox had to work for her 21-17 win over Jessica Pickthall (Lindal BC) to book her place in the final.
Falling at the quarter final stage were Paula Garrett (Douglas), Angela Gaut (Wrockwardine Wood), Natalie Hughes (Crossgates BC) and Elise Hormbrey (Wirral).
The Men's consolation was won by James Higgins (Meersbrook) who beat Paul Bradley (Fairfield) 21-20. The Ladies consolation also went to the wire with Clair Russell (Alkincoats PWA) beating Sian Skelton (Wrockwardine Wood) 21-20.
The Visit.Com Flyer title went to Callum Wraight (Llanrwst) who edged the final with a 9-8 win over John Gatley (Woolston), whilst the Last Chance Mixed Final was won by Josh Cotton (Wrockwardine Wood) who beat Gerald Merry (Delamere) 21-13.
The Open doubles was won by Billy Speed and Richard Goddard (both Llanrwst) who beat Sian Skelton (Wrockwardine Wood) and Chris Worthington (Stretton Anglesey) with a convincing 11-4 victory in an entertaining final.
The men's pairs title went to Graeme I. Wilson (AEU) and Graham Hickey who saw off the strong challenge of Ian Johnson and Ross Meese (both Eastwood Park) 11-10 in a close final with a great last bowl from Wilson to claim the game.
The ladies pairs final did result in some local success with Kim Hargraves and Jenny Moore (both South Ramsey) making no mistake with their 11-5 win over Kathryn Gee and Veronica Lyon (both Unison).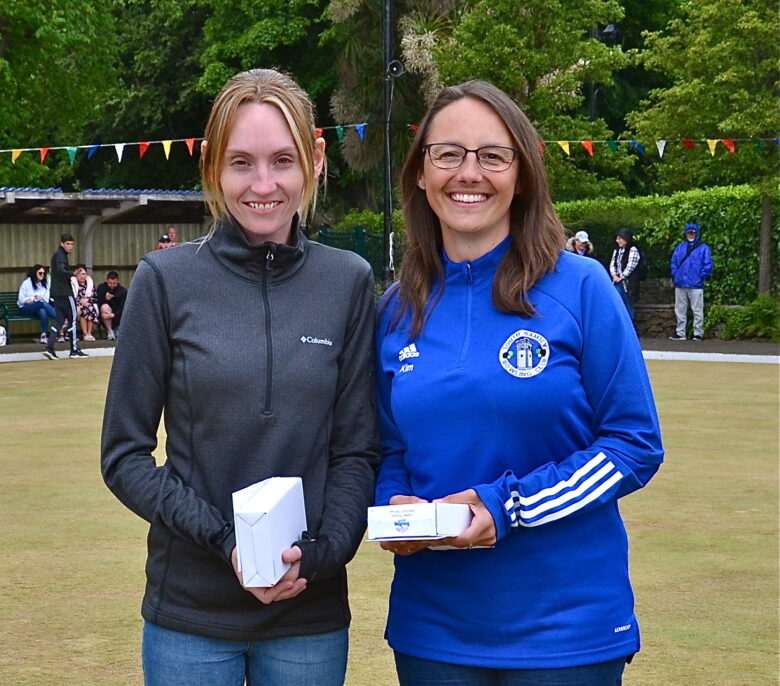 The Mixed pairs ended in defeat for Lorraine Hirst (New Mill) and Ken Lethbridge (Victoria Park) losing out 4-9 to Clair Russell (Alkincoats PWA) and Mel Hobson (Meersbrook) in the final.